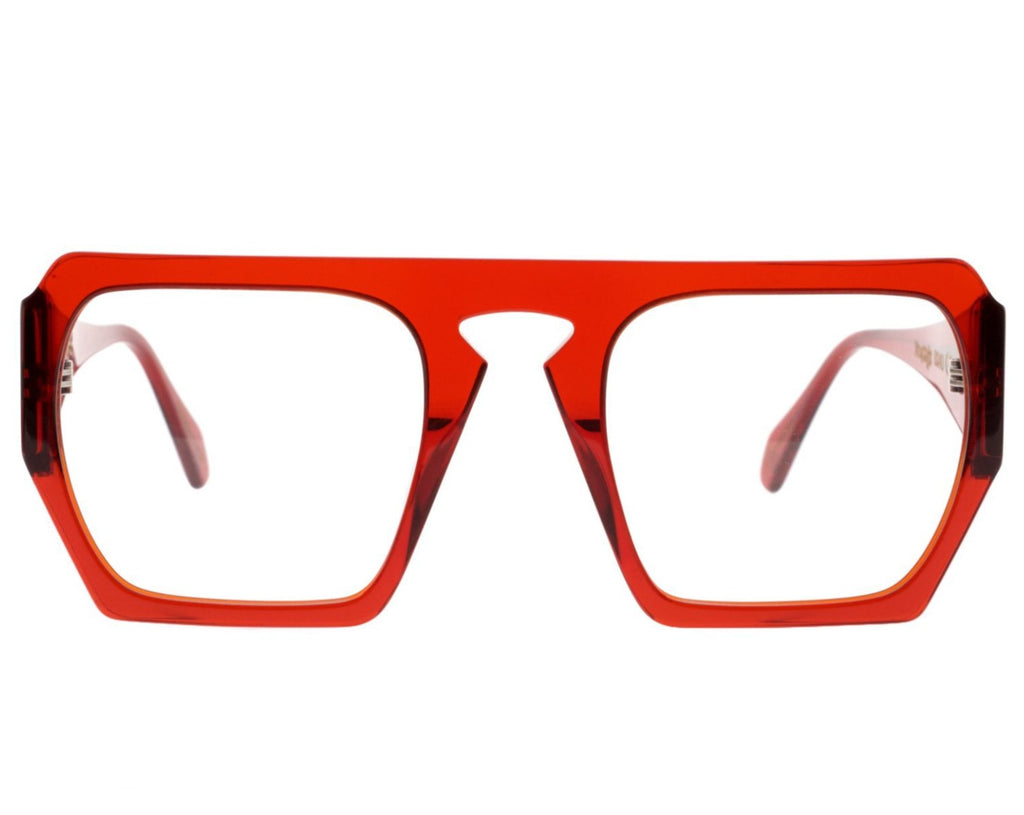 noun
Design meets durability - this frame boasts a bold flat brow look while maintaining an off the cuff keyhole designed bridge the teardrop arms bring this frame together resulting in a comfortable fit for all to truly Engage in their day to day activities.

As its name entails this stunning red acetate mimics a glow of a ruby. Moody and dark indoors yet rich and bright in sunlight complete with clear lenses, ready to have fitted with your prescription. 
143mm / 54mm (Width / Height)

 

(Width / Height)

UV 400 / CR39 Lenses / Accommodates prescription lenses
All Age eyewear is handcrafted. Coming packaged with a cleaning cloth, semi hard case and box. Each pair comes with a one year warranty covering manufacturing faults.
YOU MAY ALSO LOVE
{"id":6623854034987,"title":"Engage - Black Optic","handle":"engage-black-optic","description":"\u003cp class=\"p1\" data-mce-fragment=\"1\"\u003enoun\u003c\/p\u003e\n\u003cp class=\"p1\" data-mce-fragment=\"1\"\u003eDesign meets durability - this frame boasts a bold flat brow look while maintaining an off the cuff keyhole designed bridge the teardrop arms bring this frame together resulting in a comfortable fit for all to truly Eng\u003cb data-mce-fragment=\"1\"\u003eage\u003c\/b\u003e in their day to day activities.\u003c\/p\u003e\n\u003cp class=\"p1\"\u003eAn Age Eyewear classic, the multi layered temple acetate in our signature Bone and Black stands out from the crowd with that extra attention to detail c\u003cspan data-mce-fragment=\"1\"\u003eomplete with Clear lenses, ready to have fitted with your prescription. \u003c\/span\u003e\u003c\/p\u003e\n\u003cul class=\"ul1\" data-mce-fragment=\"1\"\u003e\n\u003cli class=\"li3\" data-mce-fragment=\"1\"\u003e\u003cspan class=\"s1\" data-mce-fragment=\"1\"\u003e143mm \/ 54mm (Width \/ Height)\u003cspan class=\"Apple-converted-space\" data-mce-fragment=\"1\"\u003e  \u003c\/span\u003e(Width \/ Height) \u003c\/span\u003e\u003c\/li\u003e\n\u003cli class=\"li3\" data-mce-fragment=\"1\"\u003e\u003cspan class=\"s1\" data-mce-fragment=\"1\"\u003eUV 400 \/ CR39 Lenses \/ Accommodates prescription lenses\u003c\/span\u003e\u003c\/li\u003e\n\u003c\/ul\u003e\n\u003cp class=\"p5\" data-mce-fragment=\"1\"\u003eAll Age eyewear is handcrafted. Coming packaged with a cleaning cloth, semi hard case and box. Each pair comes with a one year warranty covering manufacturing faults.\u003c\/p\u003e","published_at":"2021-10-29T08:24:52+13:00","created_at":"2021-10-08T10:57:27+13:00","vendor":"AgeEyewear","type":"","tags":["Food For Thought","Optic","Optics"],"price":26900,"price_min":26900,"price_max":26900,"available":true,"price_varies":false,"compare_at_price":null,"compare_at_price_min":0,"compare_at_price_max":0,"compare_at_price_varies":false,"variants":[{"id":39474225152043,"title":"Default Title","option1":"Default Title","option2":null,"option3":null,"sku":"9210","requires_shipping":true,"taxable":true,"featured_image":null,"available":true,"name":"Engage - Black Optic","public_title":null,"options":["Default Title"],"price":26900,"weight":0,"compare_at_price":null,"inventory_quantity":19,"inventory_management":"shopify","inventory_policy":"deny","barcode":""}],"images":["\/\/www.ageeyewear.com\/cdn\/shop\/products\/Photoleap.jpg?v=1635454765","\/\/www.ageeyewear.com\/cdn\/shop\/products\/1B7A4503.jpg?v=1634169388","\/\/www.ageeyewear.com\/cdn\/shop\/products\/0342F75E-3641-40A9-9D3C-C9C0D35C07A6_93e5f52f-7539-4b83-aaeb-7e580407522f.jpg?v=1634169387","\/\/www.ageeyewear.com\/cdn\/shop\/products\/1B7A8240.jpg?v=1634169388","\/\/www.ageeyewear.com\/cdn\/shop\/products\/1B7A8251.jpg?v=1634169388"],"featured_image":"\/\/www.ageeyewear.com\/cdn\/shop\/products\/Photoleap.jpg?v=1635454765","options":["Title"],"media":[{"alt":null,"id":20743461535787,"position":1,"preview_image":{"aspect_ratio":1.257,"height":1232,"width":1549,"src":"\/\/www.ageeyewear.com\/cdn\/shop\/products\/Photoleap.jpg?v=1635454765"},"aspect_ratio":1.257,"height":1232,"media_type":"image","src":"\/\/www.ageeyewear.com\/cdn\/shop\/products\/Photoleap.jpg?v=1635454765","width":1549},{"alt":null,"id":20743461371947,"position":2,"preview_image":{"aspect_ratio":1.0,"height":2048,"width":2048,"src":"\/\/www.ageeyewear.com\/cdn\/shop\/products\/1B7A4503.jpg?v=1634169388"},"aspect_ratio":1.0,"height":2048,"media_type":"image","src":"\/\/www.ageeyewear.com\/cdn\/shop\/products\/1B7A4503.jpg?v=1634169388","width":2048},{"alt":null,"id":20743461470251,"position":3,"preview_image":{"aspect_ratio":1.0,"height":2048,"width":2048,"src":"\/\/www.ageeyewear.com\/cdn\/shop\/products\/0342F75E-3641-40A9-9D3C-C9C0D35C07A6_93e5f52f-7539-4b83-aaeb-7e580407522f.jpg?v=1634169387"},"aspect_ratio":1.0,"height":2048,"media_type":"image","src":"\/\/www.ageeyewear.com\/cdn\/shop\/products\/0342F75E-3641-40A9-9D3C-C9C0D35C07A6_93e5f52f-7539-4b83-aaeb-7e580407522f.jpg?v=1634169387","width":2048},{"alt":null,"id":20743461404715,"position":4,"preview_image":{"aspect_ratio":1.0,"height":2048,"width":2048,"src":"\/\/www.ageeyewear.com\/cdn\/shop\/products\/1B7A8240.jpg?v=1634169388"},"aspect_ratio":1.0,"height":2048,"media_type":"image","src":"\/\/www.ageeyewear.com\/cdn\/shop\/products\/1B7A8240.jpg?v=1634169388","width":2048},{"alt":null,"id":20743461437483,"position":5,"preview_image":{"aspect_ratio":1.0,"height":2048,"width":2048,"src":"\/\/www.ageeyewear.com\/cdn\/shop\/products\/1B7A8251.jpg?v=1634169388"},"aspect_ratio":1.0,"height":2048,"media_type":"image","src":"\/\/www.ageeyewear.com\/cdn\/shop\/products\/1B7A8251.jpg?v=1634169388","width":2048}],"content":"\u003cp class=\"p1\" data-mce-fragment=\"1\"\u003enoun\u003c\/p\u003e\n\u003cp class=\"p1\" data-mce-fragment=\"1\"\u003eDesign meets durability - this frame boasts a bold flat brow look while maintaining an off the cuff keyhole designed bridge the teardrop arms bring this frame together resulting in a comfortable fit for all to truly Eng\u003cb data-mce-fragment=\"1\"\u003eage\u003c\/b\u003e in their day to day activities.\u003c\/p\u003e\n\u003cp class=\"p1\"\u003eAn Age Eyewear classic, the multi layered temple acetate in our signature Bone and Black stands out from the crowd with that extra attention to detail c\u003cspan data-mce-fragment=\"1\"\u003eomplete with Clear lenses, ready to have fitted with your prescription. \u003c\/span\u003e\u003c\/p\u003e\n\u003cul class=\"ul1\" data-mce-fragment=\"1\"\u003e\n\u003cli class=\"li3\" data-mce-fragment=\"1\"\u003e\u003cspan class=\"s1\" data-mce-fragment=\"1\"\u003e143mm \/ 54mm (Width \/ Height)\u003cspan class=\"Apple-converted-space\" data-mce-fragment=\"1\"\u003e  \u003c\/span\u003e(Width \/ Height) \u003c\/span\u003e\u003c\/li\u003e\n\u003cli class=\"li3\" data-mce-fragment=\"1\"\u003e\u003cspan class=\"s1\" data-mce-fragment=\"1\"\u003eUV 400 \/ CR39 Lenses \/ Accommodates prescription lenses\u003c\/span\u003e\u003c\/li\u003e\n\u003c\/ul\u003e\n\u003cp class=\"p5\" data-mce-fragment=\"1\"\u003eAll Age eyewear is handcrafted. Coming packaged with a cleaning cloth, semi hard case and box. Each pair comes with a one year warranty covering manufacturing faults.\u003c\/p\u003e"}
{"id":6623854428203,"title":"Engage - Brown Tort Optic","handle":"engage-brown-tort-optic","description":"\u003cp class=\"p1\" data-mce-fragment=\"1\"\u003enoun\u003c\/p\u003e\n\u003cp class=\"p1\" data-mce-fragment=\"1\"\u003eDesign meets durability - this frame boasts a bold flat brow look while maintaining an off the cuff keyhole designed bridge the teardrop arms bring this frame together resulting in a comfortable fit for all to truly Eng\u003cb data-mce-fragment=\"1\"\u003eage\u003c\/b\u003e in their day to day activities.\u003c\/p\u003e\n\u003cp class=\"p1\"\u003eFeaturing specs of golden hues through the darkness this acetate is our contemporary take on a classic frame. C\u003cspan data-mce-fragment=\"1\"\u003eomplete with Clear lenses, ready to have fitted with your prescription. \u003c\/span\u003e\u003c\/p\u003e\n\u003cul class=\"ul1\" data-mce-fragment=\"1\"\u003e\n\u003cli class=\"li3\" data-mce-fragment=\"1\"\u003e\u003cspan class=\"s1\" data-mce-fragment=\"1\"\u003e143mm \/ 54mm (Width \/ Height)\u003cspan class=\"Apple-converted-space\" data-mce-fragment=\"1\"\u003e  \u003c\/span\u003e(Width \/ Height) \u003c\/span\u003e\u003c\/li\u003e\n\u003cli class=\"li3\" data-mce-fragment=\"1\"\u003e\u003cspan class=\"s1\" data-mce-fragment=\"1\"\u003eUV 400 \/ CR39 Lenses \/ Accommodates prescription lenses\u003c\/span\u003e\u003c\/li\u003e\n\u003c\/ul\u003e\n\u003cp class=\"p5\" data-mce-fragment=\"1\"\u003eAll Age eyewear is handcrafted. Coming packaged with a cleaning cloth, semi hard case and box. Each pair comes with a one year warranty covering manufacturing faults.\u003c\/p\u003e","published_at":"2021-10-29T08:24:52+13:00","created_at":"2021-10-08T10:58:24+13:00","vendor":"AgeEyewear","type":"","tags":["Food For Thought","Optic","Optics"],"price":26900,"price_min":26900,"price_max":26900,"available":true,"price_varies":false,"compare_at_price":null,"compare_at_price_min":0,"compare_at_price_max":0,"compare_at_price_varies":false,"variants":[{"id":39474225774635,"title":"Default Title","option1":"Default Title","option2":null,"option3":null,"sku":"9220","requires_shipping":true,"taxable":true,"featured_image":null,"available":true,"name":"Engage - Brown Tort Optic","public_title":null,"options":["Default Title"],"price":26900,"weight":0,"compare_at_price":null,"inventory_quantity":20,"inventory_management":"shopify","inventory_policy":"deny","barcode":""}],"images":["\/\/www.ageeyewear.com\/cdn\/shop\/products\/4AA30C12-9F44-410F-97DB-B21AD928C362.jpg?v=1635454799","\/\/www.ageeyewear.com\/cdn\/shop\/products\/1B7A4504.jpg?v=1634169963","\/\/www.ageeyewear.com\/cdn\/shop\/products\/12EABA48-53A7-4588-9077-98C87FA47C53.jpg?v=1634169963","\/\/www.ageeyewear.com\/cdn\/shop\/products\/1B7A8256.jpg?v=1634169963"],"featured_image":"\/\/www.ageeyewear.com\/cdn\/shop\/products\/4AA30C12-9F44-410F-97DB-B21AD928C362.jpg?v=1635454799","options":["Title"],"media":[{"alt":null,"id":20743519174699,"position":1,"preview_image":{"aspect_ratio":1.256,"height":1201,"width":1509,"src":"\/\/www.ageeyewear.com\/cdn\/shop\/products\/4AA30C12-9F44-410F-97DB-B21AD928C362.jpg?v=1635454799"},"aspect_ratio":1.256,"height":1201,"media_type":"image","src":"\/\/www.ageeyewear.com\/cdn\/shop\/products\/4AA30C12-9F44-410F-97DB-B21AD928C362.jpg?v=1635454799","width":1509},{"alt":null,"id":20743519109163,"position":2,"preview_image":{"aspect_ratio":1.0,"height":2048,"width":2048,"src":"\/\/www.ageeyewear.com\/cdn\/shop\/products\/1B7A4504.jpg?v=1634169963"},"aspect_ratio":1.0,"height":2048,"media_type":"image","src":"\/\/www.ageeyewear.com\/cdn\/shop\/products\/1B7A4504.jpg?v=1634169963","width":2048},{"alt":null,"id":20743519207467,"position":3,"preview_image":{"aspect_ratio":1.0,"height":2048,"width":2048,"src":"\/\/www.ageeyewear.com\/cdn\/shop\/products\/12EABA48-53A7-4588-9077-98C87FA47C53.jpg?v=1634169963"},"aspect_ratio":1.0,"height":2048,"media_type":"image","src":"\/\/www.ageeyewear.com\/cdn\/shop\/products\/12EABA48-53A7-4588-9077-98C87FA47C53.jpg?v=1634169963","width":2048},{"alt":null,"id":20743519141931,"position":4,"preview_image":{"aspect_ratio":1.0,"height":2048,"width":2048,"src":"\/\/www.ageeyewear.com\/cdn\/shop\/products\/1B7A8256.jpg?v=1634169963"},"aspect_ratio":1.0,"height":2048,"media_type":"image","src":"\/\/www.ageeyewear.com\/cdn\/shop\/products\/1B7A8256.jpg?v=1634169963","width":2048}],"content":"\u003cp class=\"p1\" data-mce-fragment=\"1\"\u003enoun\u003c\/p\u003e\n\u003cp class=\"p1\" data-mce-fragment=\"1\"\u003eDesign meets durability - this frame boasts a bold flat brow look while maintaining an off the cuff keyhole designed bridge the teardrop arms bring this frame together resulting in a comfortable fit for all to truly Eng\u003cb data-mce-fragment=\"1\"\u003eage\u003c\/b\u003e in their day to day activities.\u003c\/p\u003e\n\u003cp class=\"p1\"\u003eFeaturing specs of golden hues through the darkness this acetate is our contemporary take on a classic frame. C\u003cspan data-mce-fragment=\"1\"\u003eomplete with Clear lenses, ready to have fitted with your prescription. \u003c\/span\u003e\u003c\/p\u003e\n\u003cul class=\"ul1\" data-mce-fragment=\"1\"\u003e\n\u003cli class=\"li3\" data-mce-fragment=\"1\"\u003e\u003cspan class=\"s1\" data-mce-fragment=\"1\"\u003e143mm \/ 54mm (Width \/ Height)\u003cspan class=\"Apple-converted-space\" data-mce-fragment=\"1\"\u003e  \u003c\/span\u003e(Width \/ Height) \u003c\/span\u003e\u003c\/li\u003e\n\u003cli class=\"li3\" data-mce-fragment=\"1\"\u003e\u003cspan class=\"s1\" data-mce-fragment=\"1\"\u003eUV 400 \/ CR39 Lenses \/ Accommodates prescription lenses\u003c\/span\u003e\u003c\/li\u003e\n\u003c\/ul\u003e\n\u003cp class=\"p5\" data-mce-fragment=\"1\"\u003eAll Age eyewear is handcrafted. Coming packaged with a cleaning cloth, semi hard case and box. Each pair comes with a one year warranty covering manufacturing faults.\u003c\/p\u003e"}
{"id":6623854952491,"title":"Engage - Sage Optic","handle":"engage-sage-optic","description":"\u003cp class=\"p1\" data-mce-fragment=\"1\"\u003enoun\u003c\/p\u003e\n\u003cp class=\"p1\" data-mce-fragment=\"1\"\u003eDesign meets durability - this frame boasts a bold flat brow look while maintaining an off the cuff keyhole designed bridge the teardrop arms bring this frame together resulting in a comfortable fit for all to truly Eng\u003cb data-mce-fragment=\"1\"\u003eage\u003c\/b\u003e in their day to day activities.\u003c\/p\u003e\n\u003cp class=\"p1\"\u003e\u003cb\u003e\u003c\/b\u003eThis Translucent earthy green is one of our new favourite complete \u003cmeta charset=\"utf-8\"\u003e\u003cspan data-mce-fragment=\"1\"\u003eclear lenses, ready to have fitted with your prescription.\u003c\/span\u003e\u003c\/p\u003e\n\u003cul class=\"ul1\" data-mce-fragment=\"1\"\u003e\n\u003cli class=\"li3\" data-mce-fragment=\"1\"\u003e\u003cspan class=\"s1\" data-mce-fragment=\"1\"\u003e143mm \/ 54mm (Width \/ Height)\u003cspan class=\"Apple-converted-space\" data-mce-fragment=\"1\"\u003e  \u003c\/span\u003e(Width \/ Height) \u003c\/span\u003e\u003c\/li\u003e\n\u003cli class=\"li3\" data-mce-fragment=\"1\"\u003e\u003cspan class=\"s1\" data-mce-fragment=\"1\"\u003eUV 400 \/ CR39 Lenses \/ Accommodates prescription lenses\u003c\/span\u003e\u003c\/li\u003e\n\u003c\/ul\u003e\n\u003cp class=\"p5\" data-mce-fragment=\"1\"\u003eAll Age eyewear is handcrafted. Coming packaged with a cleaning cloth, semi hard case and box. Each pair comes with a one year warranty covering manufacturing faults.\u003c\/p\u003e","published_at":"2021-10-29T08:24:53+13:00","created_at":"2021-10-08T11:00:20+13:00","vendor":"AgeEyewear","type":"","tags":["Food For Thought","Optic","Optics"],"price":26900,"price_min":26900,"price_max":26900,"available":true,"price_varies":false,"compare_at_price":null,"compare_at_price_min":0,"compare_at_price_max":0,"compare_at_price_varies":false,"variants":[{"id":39474226331691,"title":"Default Title","option1":"Default Title","option2":null,"option3":null,"sku":"9230","requires_shipping":true,"taxable":true,"featured_image":null,"available":true,"name":"Engage - Sage Optic","public_title":null,"options":["Default Title"],"price":26900,"weight":0,"compare_at_price":null,"inventory_quantity":4,"inventory_management":"shopify","inventory_policy":"deny","barcode":""}],"images":["\/\/www.ageeyewear.com\/cdn\/shop\/products\/F88493B5-36D7-4285-B24A-23B7A17AA41A.jpg?v=1635454863","\/\/www.ageeyewear.com\/cdn\/shop\/products\/1B7A4505.jpg?v=1634170404","\/\/www.ageeyewear.com\/cdn\/shop\/products\/C664F38F-4C76-4D8B-A93B-FF6EE8C7A17C_42974b55-00b7-450c-9ec4-6fe1bd7e6a6f.jpg?v=1634170404","\/\/www.ageeyewear.com\/cdn\/shop\/products\/1B7A8264.jpg?v=1634170404"],"featured_image":"\/\/www.ageeyewear.com\/cdn\/shop\/products\/F88493B5-36D7-4285-B24A-23B7A17AA41A.jpg?v=1635454863","options":["Title"],"media":[{"alt":null,"id":20743568064555,"position":1,"preview_image":{"aspect_ratio":1.256,"height":1249,"width":1569,"src":"\/\/www.ageeyewear.com\/cdn\/shop\/products\/F88493B5-36D7-4285-B24A-23B7A17AA41A.jpg?v=1635454863"},"aspect_ratio":1.256,"height":1249,"media_type":"image","src":"\/\/www.ageeyewear.com\/cdn\/shop\/products\/F88493B5-36D7-4285-B24A-23B7A17AA41A.jpg?v=1635454863","width":1569},{"alt":null,"id":20743567966251,"position":2,"preview_image":{"aspect_ratio":1.0,"height":2048,"width":2048,"src":"\/\/www.ageeyewear.com\/cdn\/shop\/products\/1B7A4505.jpg?v=1634170404"},"aspect_ratio":1.0,"height":2048,"media_type":"image","src":"\/\/www.ageeyewear.com\/cdn\/shop\/products\/1B7A4505.jpg?v=1634170404","width":2048},{"alt":null,"id":20743568031787,"position":3,"preview_image":{"aspect_ratio":1.0,"height":2048,"width":2048,"src":"\/\/www.ageeyewear.com\/cdn\/shop\/products\/C664F38F-4C76-4D8B-A93B-FF6EE8C7A17C_42974b55-00b7-450c-9ec4-6fe1bd7e6a6f.jpg?v=1634170404"},"aspect_ratio":1.0,"height":2048,"media_type":"image","src":"\/\/www.ageeyewear.com\/cdn\/shop\/products\/C664F38F-4C76-4D8B-A93B-FF6EE8C7A17C_42974b55-00b7-450c-9ec4-6fe1bd7e6a6f.jpg?v=1634170404","width":2048},{"alt":null,"id":20743567999019,"position":4,"preview_image":{"aspect_ratio":1.0,"height":2048,"width":2048,"src":"\/\/www.ageeyewear.com\/cdn\/shop\/products\/1B7A8264.jpg?v=1634170404"},"aspect_ratio":1.0,"height":2048,"media_type":"image","src":"\/\/www.ageeyewear.com\/cdn\/shop\/products\/1B7A8264.jpg?v=1634170404","width":2048}],"content":"\u003cp class=\"p1\" data-mce-fragment=\"1\"\u003enoun\u003c\/p\u003e\n\u003cp class=\"p1\" data-mce-fragment=\"1\"\u003eDesign meets durability - this frame boasts a bold flat brow look while maintaining an off the cuff keyhole designed bridge the teardrop arms bring this frame together resulting in a comfortable fit for all to truly Eng\u003cb data-mce-fragment=\"1\"\u003eage\u003c\/b\u003e in their day to day activities.\u003c\/p\u003e\n\u003cp class=\"p1\"\u003e\u003cb\u003e\u003c\/b\u003eThis Translucent earthy green is one of our new favourite complete \u003cmeta charset=\"utf-8\"\u003e\u003cspan data-mce-fragment=\"1\"\u003eclear lenses, ready to have fitted with your prescription.\u003c\/span\u003e\u003c\/p\u003e\n\u003cul class=\"ul1\" data-mce-fragment=\"1\"\u003e\n\u003cli class=\"li3\" data-mce-fragment=\"1\"\u003e\u003cspan class=\"s1\" data-mce-fragment=\"1\"\u003e143mm \/ 54mm (Width \/ Height)\u003cspan class=\"Apple-converted-space\" data-mce-fragment=\"1\"\u003e  \u003c\/span\u003e(Width \/ Height) \u003c\/span\u003e\u003c\/li\u003e\n\u003cli class=\"li3\" data-mce-fragment=\"1\"\u003e\u003cspan class=\"s1\" data-mce-fragment=\"1\"\u003eUV 400 \/ CR39 Lenses \/ Accommodates prescription lenses\u003c\/span\u003e\u003c\/li\u003e\n\u003c\/ul\u003e\n\u003cp class=\"p5\" data-mce-fragment=\"1\"\u003eAll Age eyewear is handcrafted. Coming packaged with a cleaning cloth, semi hard case and box. Each pair comes with a one year warranty covering manufacturing faults.\u003c\/p\u003e"}