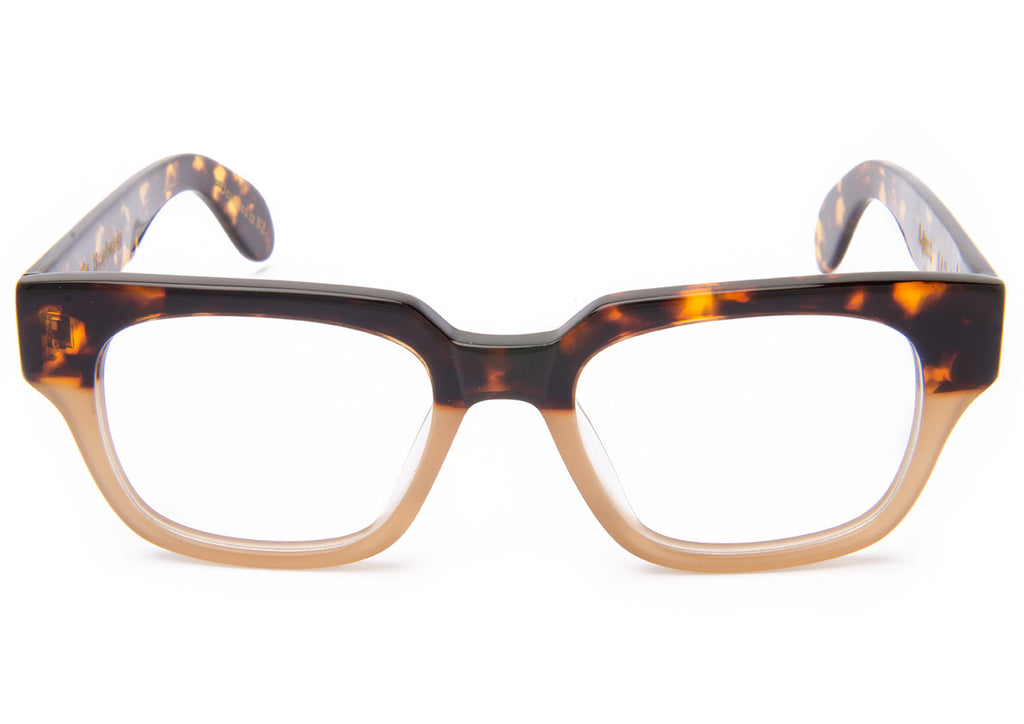 noun
a person who does business for another person.
Agent is a flattering, versatile frame for everyday use. A modern small square rectangular shape which is very balanced and suits many different face shapes and sizes.
Fromage Tort is an opaque addition featuring its soft golden tones and deep brown irregular patches. Amber Gradient Lens
• 140mm / 45mm (Width / Height)
• UV 400 / CR39 Lenses / Accommodates prescription lenses

All Age eyewear is hand crafted. Coming packaged with a cleaning cloth, semi hard case and box. Each pair comes with a one year warranty covering manufacturing faults.
Note: Model shot is of the sunglass version. 
YOU MAY ALSO LOVE
{"id":212356235302,"title":"Agent - Caramel Tort Optic","handle":"agent-caramel-tort-optic","description":"\u003cp\u003enoun\u003cbr\u003e a person who does business for another person.\u003cbr\u003e\u003cbr\u003e Agent is a flattering, versatile frame for everyday use. A modern small square rectangular shape which is very balanced and suits many different face shapes and sizes. \u003cbr\u003e\u003cbr\u003e An Age Eyewear classic, the multi layered temple acetate in a\u003cspan\u003e warmer colour option, our new Caramel Tort is deliciously feminine. \u003cspan class=\"\"\u003eClear Lenses.\u003c\/span\u003e\u003c\/span\u003e\u003cbr\u003e\u003cbr\u003e • 140mm \/ 45mm (Width \/ Height) \u003cbr\u003e • UV 400 \/ CR39 Lenses \/ Accommodates prescription lenses \u003cbr\u003e \u003cbr\u003e All Age eyewear is hand crafted. Coming packaged with a cleaning cloth, semi hard case and box. Each pair comes with a one year warranty covering manufacturing faults.\u003c\/p\u003e","published_at":"2017-10-27T10:00:14+13:00","created_at":"2017-10-24T15:17:59+13:00","vendor":"n\/a","type":"AgeEyewear Collections","tags":["Agent Optic","Food For Thought"],"price":22900,"price_min":22900,"price_max":22900,"available":true,"price_varies":false,"compare_at_price":null,"compare_at_price_min":0,"compare_at_price_max":0,"compare_at_price_varies":false,"variants":[{"id":2568042938406,"title":"Default Title","option1":"Default Title","option2":null,"option3":null,"sku":"14120","requires_shipping":true,"taxable":false,"featured_image":null,"available":true,"name":"Agent - Caramel Tort Optic","public_title":null,"options":["Default Title"],"price":22900,"weight":0,"compare_at_price":null,"inventory_quantity":1,"inventory_management":"shopify","inventory_policy":"deny","barcode":""}],"images":["\/\/www.ageeyewear.com\/cdn\/shop\/products\/web_Studio_Session-031.jpg?v=1635458713","\/\/www.ageeyewear.com\/cdn\/shop\/products\/web_Studio_Session-152.jpg?v=1509164922","\/\/www.ageeyewear.com\/cdn\/shop\/products\/web_Studio_Session-079.jpg?v=1509164922","\/\/www.ageeyewear.com\/cdn\/shop\/products\/Agent_caramel_tort_web_Studio_Session-585.jpg?v=1509164922"],"featured_image":"\/\/www.ageeyewear.com\/cdn\/shop\/products\/web_Studio_Session-031.jpg?v=1635458713","options":["Title"],"media":[{"alt":null,"id":345655935019,"position":1,"preview_image":{"aspect_ratio":1.254,"height":768,"width":963,"src":"\/\/www.ageeyewear.com\/cdn\/shop\/products\/web_Studio_Session-031.jpg?v=1635458713"},"aspect_ratio":1.254,"height":768,"media_type":"image","src":"\/\/www.ageeyewear.com\/cdn\/shop\/products\/web_Studio_Session-031.jpg?v=1635458713","width":963},{"alt":null,"id":345105760299,"position":2,"preview_image":{"aspect_ratio":1.5,"height":820,"width":1230,"src":"\/\/www.ageeyewear.com\/cdn\/shop\/products\/web_Studio_Session-152.jpg?v=1509164922"},"aspect_ratio":1.5,"height":820,"media_type":"image","src":"\/\/www.ageeyewear.com\/cdn\/shop\/products\/web_Studio_Session-152.jpg?v=1509164922","width":1230},{"alt":null,"id":345105727531,"position":3,"preview_image":{"aspect_ratio":1.5,"height":820,"width":1230,"src":"\/\/www.ageeyewear.com\/cdn\/shop\/products\/web_Studio_Session-079.jpg?v=1509164922"},"aspect_ratio":1.5,"height":820,"media_type":"image","src":"\/\/www.ageeyewear.com\/cdn\/shop\/products\/web_Studio_Session-079.jpg?v=1509164922","width":1230},{"alt":null,"id":345159008299,"position":4,"preview_image":{"aspect_ratio":0.666,"height":820,"width":546,"src":"\/\/www.ageeyewear.com\/cdn\/shop\/products\/Agent_caramel_tort_web_Studio_Session-585.jpg?v=1509164922"},"aspect_ratio":0.666,"height":820,"media_type":"image","src":"\/\/www.ageeyewear.com\/cdn\/shop\/products\/Agent_caramel_tort_web_Studio_Session-585.jpg?v=1509164922","width":546}],"content":"\u003cp\u003enoun\u003cbr\u003e a person who does business for another person.\u003cbr\u003e\u003cbr\u003e Agent is a flattering, versatile frame for everyday use. A modern small square rectangular shape which is very balanced and suits many different face shapes and sizes. \u003cbr\u003e\u003cbr\u003e An Age Eyewear classic, the multi layered temple acetate in a\u003cspan\u003e warmer colour option, our new Caramel Tort is deliciously feminine. \u003cspan class=\"\"\u003eClear Lenses.\u003c\/span\u003e\u003c\/span\u003e\u003cbr\u003e\u003cbr\u003e • 140mm \/ 45mm (Width \/ Height) \u003cbr\u003e • UV 400 \/ CR39 Lenses \/ Accommodates prescription lenses \u003cbr\u003e \u003cbr\u003e All Age eyewear is hand crafted. Coming packaged with a cleaning cloth, semi hard case and box. Each pair comes with a one year warranty covering manufacturing faults.\u003c\/p\u003e"}
{"id":212356136998,"title":"Agent - Yellow Tort Optic","handle":"agent-yellow-tort-optic","description":"\u003cp\u003enoun\u003cbr\u003e a person who does business for another person.\u003cbr\u003e\u003cbr\u003e Agent is a flattering, versatile frame for everyday use. A modern small square rectangular shape which is very balanced and suits many different face shapes and sizes. \u003cbr\u003e\u003cbr\u003e An Age Eyewear classic, the multi layered temple acetate in a\u003cspan\u003e Yellow torte has strong punches of yellow, to break up the dark black patches. \u003cspan class=\"\"\u003eClear Lenses.\u003c\/span\u003e\u003c\/span\u003e\u003cbr\u003e\u003cbr\u003e • 140mm \/ 45mm (Width \/ Height) \u003cbr\u003e • UV 400 \/ CR39 Lenses \/ Accommodates prescription lenses \u003cbr\u003e \u003cbr\u003e All Age eyewear is hand crafted. Coming packaged with a cleaning cloth, semi hard case and box. Each pair comes with a one year warranty covering manufacturing faults.\u003c\/p\u003e","published_at":"2017-10-27T10:00:14+13:00","created_at":"2017-10-24T15:16:32+13:00","vendor":"n\/a","type":"AgeEyewear Collections","tags":["Agent Optic","Food For Thought"],"price":22900,"price_min":22900,"price_max":22900,"available":true,"price_varies":false,"compare_at_price":null,"compare_at_price_min":0,"compare_at_price_max":0,"compare_at_price_varies":false,"variants":[{"id":2568042577958,"title":"Default Title","option1":"Default Title","option2":null,"option3":null,"sku":"14110","requires_shipping":true,"taxable":false,"featured_image":null,"available":true,"name":"Agent - Yellow Tort Optic","public_title":null,"options":["Default Title"],"price":22900,"weight":0,"compare_at_price":null,"inventory_quantity":9,"inventory_management":"shopify","inventory_policy":"deny","barcode":""}],"images":["\/\/www.ageeyewear.com\/cdn\/shop\/products\/web_Studio_Session-033_2718fe99-0450-4e10-ae2a-03d73a65800a.jpg?v=1635459798","\/\/www.ageeyewear.com\/cdn\/shop\/products\/web_Studio_Session-151.jpg?v=1509165856","\/\/www.ageeyewear.com\/cdn\/shop\/products\/web_Studio_Session-080_1.jpg?v=1509165856","\/\/www.ageeyewear.com\/cdn\/shop\/products\/Agent_yellow_tort_web_Studio_Session-556.jpg?v=1509165856"],"featured_image":"\/\/www.ageeyewear.com\/cdn\/shop\/products\/web_Studio_Session-033_2718fe99-0450-4e10-ae2a-03d73a65800a.jpg?v=1635459798","options":["Title"],"media":[{"alt":null,"id":345656557611,"position":1,"preview_image":{"aspect_ratio":1.256,"height":778,"width":977,"src":"\/\/www.ageeyewear.com\/cdn\/shop\/products\/web_Studio_Session-033_2718fe99-0450-4e10-ae2a-03d73a65800a.jpg?v=1635459798"},"aspect_ratio":1.256,"height":778,"media_type":"image","src":"\/\/www.ageeyewear.com\/cdn\/shop\/products\/web_Studio_Session-033_2718fe99-0450-4e10-ae2a-03d73a65800a.jpg?v=1635459798","width":977},{"alt":null,"id":345105694763,"position":2,"preview_image":{"aspect_ratio":1.5,"height":820,"width":1230,"src":"\/\/www.ageeyewear.com\/cdn\/shop\/products\/web_Studio_Session-151.jpg?v=1509165856"},"aspect_ratio":1.5,"height":820,"media_type":"image","src":"\/\/www.ageeyewear.com\/cdn\/shop\/products\/web_Studio_Session-151.jpg?v=1509165856","width":1230},{"alt":null,"id":345105661995,"position":3,"preview_image":{"aspect_ratio":1.5,"height":820,"width":1230,"src":"\/\/www.ageeyewear.com\/cdn\/shop\/products\/web_Studio_Session-080_1.jpg?v=1509165856"},"aspect_ratio":1.5,"height":820,"media_type":"image","src":"\/\/www.ageeyewear.com\/cdn\/shop\/products\/web_Studio_Session-080_1.jpg?v=1509165856","width":1230},{"alt":null,"id":345159073835,"position":4,"preview_image":{"aspect_ratio":0.666,"height":820,"width":546,"src":"\/\/www.ageeyewear.com\/cdn\/shop\/products\/Agent_yellow_tort_web_Studio_Session-556.jpg?v=1509165856"},"aspect_ratio":0.666,"height":820,"media_type":"image","src":"\/\/www.ageeyewear.com\/cdn\/shop\/products\/Agent_yellow_tort_web_Studio_Session-556.jpg?v=1509165856","width":546}],"content":"\u003cp\u003enoun\u003cbr\u003e a person who does business for another person.\u003cbr\u003e\u003cbr\u003e Agent is a flattering, versatile frame for everyday use. A modern small square rectangular shape which is very balanced and suits many different face shapes and sizes. \u003cbr\u003e\u003cbr\u003e An Age Eyewear classic, the multi layered temple acetate in a\u003cspan\u003e Yellow torte has strong punches of yellow, to break up the dark black patches. \u003cspan class=\"\"\u003eClear Lenses.\u003c\/span\u003e\u003c\/span\u003e\u003cbr\u003e\u003cbr\u003e • 140mm \/ 45mm (Width \/ Height) \u003cbr\u003e • UV 400 \/ CR39 Lenses \/ Accommodates prescription lenses \u003cbr\u003e \u003cbr\u003e All Age eyewear is hand crafted. Coming packaged with a cleaning cloth, semi hard case and box. Each pair comes with a one year warranty covering manufacturing faults.\u003c\/p\u003e"}
{"id":5858806849,"title":"Agent - Black Optic","handle":"agent-blackw-bone","description":"noun\u003cbr\u003e a person who does business for another person.\u003cbr\u003e Agent is a flattering, versatile frame for everyday use. A modern small square rectangular shape which is very balanced and suits many different face shapes and sizes. \u003cbr\u003e An Age Eyewear classic, the multi layered temple acetate in our signature Bone and Black stands out from the crowd with that extra attention to detail. \u003cbr\u003e • 140mm \/ 45mm (Width \/ Height) \u003cbr\u003e • UV 400 \/ CR39 Lenses \/ Accommodates prescription lenses \u003cbr\u003e \u003cbr\u003e All Age eyewear is hand crafted. Coming packaged with a cleaning cloth, semi hard case and box. Each pair comes with a one year warranty covering manufacturing faults.","published_at":"2021-10-29T10:57:03+13:00","created_at":"2016-04-26T16:16:43+12:00","vendor":"n\/a","type":"AgeEyewear Collections","tags":["Agent Optic","Food For Thought"],"price":22900,"price_min":22900,"price_max":22900,"available":true,"price_varies":false,"compare_at_price":null,"compare_at_price_min":0,"compare_at_price_max":0,"compare_at_price_varies":false,"variants":[{"id":17959775873,"title":"Default Title","option1":"Default Title","option2":null,"option3":null,"sku":"1440","requires_shipping":true,"taxable":false,"featured_image":null,"available":true,"name":"Agent - Black Optic","public_title":null,"options":["Default Title"],"price":22900,"weight":0,"compare_at_price":null,"inventory_quantity":12,"inventory_management":"shopify","inventory_policy":"deny","barcode":""}],"images":["\/\/www.ageeyewear.com\/cdn\/shop\/products\/agent-black-optic.jpg?v=1635458093","\/\/www.ageeyewear.com\/cdn\/shop\/products\/agent-black-optic-1440.jpeg?v=1527154748","\/\/www.ageeyewear.com\/cdn\/shop\/products\/case_1_1.jpeg?v=1527154748","\/\/www.ageeyewear.com\/cdn\/shop\/products\/agent-black-optic-1440_1.jpeg?v=1527154748","\/\/www.ageeyewear.com\/cdn\/shop\/products\/agent_black_optics_1.jpg?v=1527154748"],"featured_image":"\/\/www.ageeyewear.com\/cdn\/shop\/products\/agent-black-optic.jpg?v=1635458093","options":["Title"],"media":[{"alt":null,"id":68293820459,"position":1,"preview_image":{"aspect_ratio":1.259,"height":309,"width":389,"src":"\/\/www.ageeyewear.com\/cdn\/shop\/products\/agent-black-optic.jpg?v=1635458093"},"aspect_ratio":1.259,"height":309,"media_type":"image","src":"\/\/www.ageeyewear.com\/cdn\/shop\/products\/agent-black-optic.jpg?v=1635458093","width":389},{"alt":"Agent - Black Optic - AgeEyewear","id":68293853227,"position":2,"preview_image":{"aspect_ratio":1.499,"height":547,"width":820,"src":"\/\/www.ageeyewear.com\/cdn\/shop\/products\/agent-black-optic-1440.jpeg?v=1527154748"},"aspect_ratio":1.499,"height":547,"media_type":"image","src":"\/\/www.ageeyewear.com\/cdn\/shop\/products\/agent-black-optic-1440.jpeg?v=1527154748","width":820},{"alt":"Agent - Black Optic - AgeEyewear","id":68293885995,"position":3,"preview_image":{"aspect_ratio":1.509,"height":558,"width":842,"src":"\/\/www.ageeyewear.com\/cdn\/shop\/products\/case_1_1.jpeg?v=1527154748"},"aspect_ratio":1.509,"height":558,"media_type":"image","src":"\/\/www.ageeyewear.com\/cdn\/shop\/products\/case_1_1.jpeg?v=1527154748","width":842},{"alt":null,"id":68293918763,"position":4,"preview_image":{"aspect_ratio":1.499,"height":547,"width":820,"src":"\/\/www.ageeyewear.com\/cdn\/shop\/products\/agent-black-optic-1440_1.jpeg?v=1527154748"},"aspect_ratio":1.499,"height":547,"media_type":"image","src":"\/\/www.ageeyewear.com\/cdn\/shop\/products\/agent-black-optic-1440_1.jpeg?v=1527154748","width":820},{"alt":null,"id":68293951531,"position":5,"preview_image":{"aspect_ratio":1.039,"height":492,"width":511,"src":"\/\/www.ageeyewear.com\/cdn\/shop\/products\/agent_black_optics_1.jpg?v=1527154748"},"aspect_ratio":1.039,"height":492,"media_type":"image","src":"\/\/www.ageeyewear.com\/cdn\/shop\/products\/agent_black_optics_1.jpg?v=1527154748","width":511}],"content":"noun\u003cbr\u003e a person who does business for another person.\u003cbr\u003e Agent is a flattering, versatile frame for everyday use. A modern small square rectangular shape which is very balanced and suits many different face shapes and sizes. \u003cbr\u003e An Age Eyewear classic, the multi layered temple acetate in our signature Bone and Black stands out from the crowd with that extra attention to detail. \u003cbr\u003e • 140mm \/ 45mm (Width \/ Height) \u003cbr\u003e • UV 400 \/ CR39 Lenses \/ Accommodates prescription lenses \u003cbr\u003e \u003cbr\u003e All Age eyewear is hand crafted. Coming packaged with a cleaning cloth, semi hard case and box. Each pair comes with a one year warranty covering manufacturing faults."}