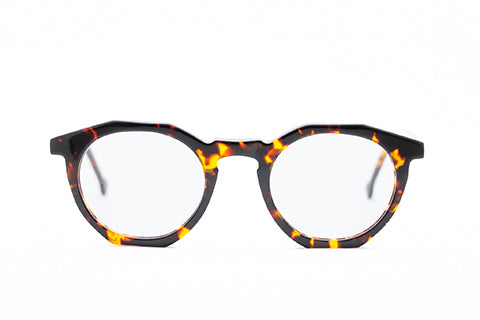 noun
a thing or place that confines or imprisons.
A classic with a unique twist - Hinting to the 1920's classic round frame and brought back to today with flattened lines on top and bottom. The fine temple carries the circular theme through with its precisely round temple tip.  
Featuring specs of golden hues through the darkness this acetate is our contemporary take on a classic. Brown tones following through from frame to lens offering a cohesive finish. Complete with Clear lenses, ready to have fitted with your prescription. 
136mm / 48mm (Width / Height)  (Width / Height) 
UV 400 / CR39 Lenses / Accommodates prescription lenses 

All Age eyewear is handcrafted. Coming packaged with a cleaning cloth, semi-hard case, and box. Each pair comes with a one year warranty covering manufacturing faults.
YOU MAY ALSO LOVE
{"id":1835095457835,"title":"Cage - Honey Tort Optic","handle":"cage-honey-tort-optic","description":"\u003cmeta charset=\"utf-8\"\u003e\n\u003cp\u003e\u003cspan\u003enoun\u003c\/span\u003e\u003cbr\u003e\u003cspan class=\"s1\"\u003ea thing or place that confines or imprisons.\u003c\/span\u003e\u003c\/p\u003e\n\u003cmeta charset=\"utf-8\"\u003e\u003cmeta charset=\"utf-8\"\u003e\n\u003cp class=\"p1\"\u003e\u003cspan class=\"s1\"\u003e\u003cspan\u003eA classic with a unique twist\u003c\/span\u003e - Hinting to the 1920's classic round frame and brought back to today with flattened lines on top and bottom. The fine temple carries the circular theme through with its precisely round temple tip.  \u003c\/span\u003e\u003c\/p\u003e\n\u003cmeta charset=\"utf-8\"\u003e\u003cmeta charset=\"utf-8\"\u003e\n\u003cp class=\"p1\"\u003e\u003cspan class=\"s1\"\u003e\u003cspan\u003eThe perfect compliment to warm summer days, Honey Tort features rich tones of golden honey and warm brown.\u003c\/span\u003e \u003c\/span\u003e\u003cspan\u003eComplete with \u003c\/span\u003e\u003cspan\u003eClear lenses, ready to have fitted with your prescription. \u003c\/span\u003e\u003c\/p\u003e\n\u003cp class=\"p1\"\u003e\u003cspan class=\"s1\"\u003e\u003c\/span\u003e\u003cspan\u003e \u003c\/span\u003e \u003c\/p\u003e\n\u003cul\u003e\n\u003cli\u003e136mm \/ 48mm (Width \/ Height)  (Width \/ Height) \u003c\/li\u003e\n\u003cli\u003eUV 400 \/ CR39 Lenses \/ Accommodates prescription lenses \u003c\/li\u003e\n\u003c\/ul\u003e\n\u003cp\u003e\u003cbr\u003e\u003cspan\u003eAll Age eyewear is handcrafted. Coming packaged with a cleaning cloth, semi-hard case, and box. Each pair comes with a one year warranty covering manufacturing faults.\u003c\/span\u003e\u003c\/p\u003e\n\u003cp class=\"p1\"\u003e \u003c\/p\u003e\n\u003cp class=\"p1\"\u003e\u003cspan class=\"s1\"\u003e \u003c\/span\u003e\u003c\/p\u003e","published_at":"2020-10-15T15:53:56+13:00","created_at":"2019-07-16T14:24:38+12:00","vendor":"AgeEyewear","type":"","tags":["Optic","Optics","Optics -\u003e Cage"],"price":22900,"price_min":22900,"price_max":22900,"available":true,"price_varies":false,"compare_at_price":null,"compare_at_price_min":0,"compare_at_price_max":0,"compare_at_price_varies":false,"variants":[{"id":16773150113835,"title":"Default Title","option1":"Default Title","option2":null,"option3":null,"sku":"7350","requires_shipping":true,"taxable":true,"featured_image":null,"available":true,"name":"Cage - Honey Tort Optic","public_title":null,"options":["Default Title"],"price":22900,"weight":0,"compare_at_price":null,"inventory_quantity":10,"inventory_management":"shopify","inventory_policy":"deny","barcode":""}],"images":["\/\/www.ageeyewear.com\/cdn\/shop\/products\/IMG_3741_edit.jpg?v=1571097296","\/\/www.ageeyewear.com\/cdn\/shop\/products\/IMG_3747_edit_ebb70de8-391f-4d3b-9333-4f610b6ca34c.jpg?v=1571097296"],"featured_image":"\/\/www.ageeyewear.com\/cdn\/shop\/products\/IMG_3741_edit.jpg?v=1571097296","options":["Title"],"media":[{"alt":null,"id":5284624760875,"position":1,"preview_image":{"aspect_ratio":1.5,"height":320,"width":480,"src":"\/\/www.ageeyewear.com\/cdn\/shop\/products\/IMG_3741_edit.jpg?v=1571097296"},"aspect_ratio":1.5,"height":320,"media_type":"image","src":"\/\/www.ageeyewear.com\/cdn\/shop\/products\/IMG_3741_edit.jpg?v=1571097296","width":480},{"alt":null,"id":5284624728107,"position":2,"preview_image":{"aspect_ratio":1.5,"height":320,"width":480,"src":"\/\/www.ageeyewear.com\/cdn\/shop\/products\/IMG_3747_edit_ebb70de8-391f-4d3b-9333-4f610b6ca34c.jpg?v=1571097296"},"aspect_ratio":1.5,"height":320,"media_type":"image","src":"\/\/www.ageeyewear.com\/cdn\/shop\/products\/IMG_3747_edit_ebb70de8-391f-4d3b-9333-4f610b6ca34c.jpg?v=1571097296","width":480}],"content":"\u003cmeta charset=\"utf-8\"\u003e\n\u003cp\u003e\u003cspan\u003enoun\u003c\/span\u003e\u003cbr\u003e\u003cspan class=\"s1\"\u003ea thing or place that confines or imprisons.\u003c\/span\u003e\u003c\/p\u003e\n\u003cmeta charset=\"utf-8\"\u003e\u003cmeta charset=\"utf-8\"\u003e\n\u003cp class=\"p1\"\u003e\u003cspan class=\"s1\"\u003e\u003cspan\u003eA classic with a unique twist\u003c\/span\u003e - Hinting to the 1920's classic round frame and brought back to today with flattened lines on top and bottom. The fine temple carries the circular theme through with its precisely round temple tip.  \u003c\/span\u003e\u003c\/p\u003e\n\u003cmeta charset=\"utf-8\"\u003e\u003cmeta charset=\"utf-8\"\u003e\n\u003cp class=\"p1\"\u003e\u003cspan class=\"s1\"\u003e\u003cspan\u003eThe perfect compliment to warm summer days, Honey Tort features rich tones of golden honey and warm brown.\u003c\/span\u003e \u003c\/span\u003e\u003cspan\u003eComplete with \u003c\/span\u003e\u003cspan\u003eClear lenses, ready to have fitted with your prescription. \u003c\/span\u003e\u003c\/p\u003e\n\u003cp class=\"p1\"\u003e\u003cspan class=\"s1\"\u003e\u003c\/span\u003e\u003cspan\u003e \u003c\/span\u003e \u003c\/p\u003e\n\u003cul\u003e\n\u003cli\u003e136mm \/ 48mm (Width \/ Height)  (Width \/ Height) \u003c\/li\u003e\n\u003cli\u003eUV 400 \/ CR39 Lenses \/ Accommodates prescription lenses \u003c\/li\u003e\n\u003c\/ul\u003e\n\u003cp\u003e\u003cbr\u003e\u003cspan\u003eAll Age eyewear is handcrafted. Coming packaged with a cleaning cloth, semi-hard case, and box. Each pair comes with a one year warranty covering manufacturing faults.\u003c\/span\u003e\u003c\/p\u003e\n\u003cp class=\"p1\"\u003e \u003c\/p\u003e\n\u003cp class=\"p1\"\u003e\u003cspan class=\"s1\"\u003e \u003c\/span\u003e\u003c\/p\u003e"}
{"id":1835092475947,"title":"Cage - Blue to Red Optic","handle":"cage-blue-to-red-optic","description":"\u003cmeta charset=\"utf-8\"\u003e\n\u003cp\u003e\u003cspan\u003enoun\u003c\/span\u003e\u003cbr\u003e\u003cspan class=\"s1\"\u003ea thing or place that confines or imprisons.\u003c\/span\u003e\u003c\/p\u003e\n\u003cmeta charset=\"utf-8\"\u003e\u003cmeta charset=\"utf-8\"\u003e\n\u003cp class=\"p1\"\u003e\u003cspan class=\"s1\"\u003e\u003cspan\u003eA classic with a unique twist\u003c\/span\u003e - Hinting to the 1920's classic round frame and brought back to today with flattened lines on top and bottom. The fine temple carries the circular theme through with its precisely round temple tip.  \u003c\/span\u003e\u003c\/p\u003e\n\u003cmeta charset=\"utf-8\"\u003e\n\u003cp class=\"p1\"\u003e\u003cspan class=\"s1\"\u003eOcean blue contrasted with a splash of red - The beautiful depth of this colour is brought to life with the slight transparency of the acetate, allowing the light to shine through making the colours pop. Complete with Grey Gradient lenses, providing quality UV protection and high sun-glare reduction.\u003c\/span\u003e\u003c\/p\u003e\n\u003cp class=\"p1\"\u003e\u003cspan class=\"s1\"\u003e\u003c\/span\u003e\u003cspan\u003e \u003c\/span\u003e \u003c\/p\u003e\n\u003cul\u003e\n\u003cli\u003e136mm \/ 48mm (Width \/ Height)  (Width \/ Height) \u003c\/li\u003e\n\u003cli\u003eUV 400 \/ CR39 Lenses \/ Accommodates prescription lenses \u003c\/li\u003e\n\u003c\/ul\u003e\n\u003cp\u003e\u003cbr\u003e\u003cspan\u003eAll Age eyewear is handcrafted. Coming packaged with a cleaning cloth, semi-hard case, and box. Each pair comes with a one year warranty covering manufacturing faults.\u003c\/span\u003e\u003c\/p\u003e\n\u003cp class=\"p1\"\u003e \u003c\/p\u003e\n\u003cp class=\"p1\"\u003e\u003cspan class=\"s1\"\u003e \u003c\/span\u003e\u003c\/p\u003e","published_at":"2019-10-15T13:36:31+13:00","created_at":"2019-07-16T14:19:04+12:00","vendor":"AgeEyewear","type":"","tags":["Optic","Optics","Optics -\u003e Cage"],"price":22900,"price_min":22900,"price_max":22900,"available":true,"price_varies":false,"compare_at_price":null,"compare_at_price_min":0,"compare_at_price_max":0,"compare_at_price_varies":false,"variants":[{"id":16773144281131,"title":"Default Title","option1":"Default Title","option2":null,"option3":null,"sku":"7330","requires_shipping":true,"taxable":true,"featured_image":null,"available":true,"name":"Cage - Blue to Red Optic","public_title":null,"options":["Default Title"],"price":22900,"weight":0,"compare_at_price":null,"inventory_quantity":10,"inventory_management":"shopify","inventory_policy":"deny","barcode":""}],"images":["\/\/www.ageeyewear.com\/cdn\/shop\/products\/AGE_PRODUCT0215.jpg?v=1570763025","\/\/www.ageeyewear.com\/cdn\/shop\/products\/AGE_PRODUCT0166_6d58bf72-8666-4557-ae7a-d68b84436209.jpg?v=1570763025","\/\/www.ageeyewear.com\/cdn\/shop\/products\/AGE_PRODUCT0296.jpg?v=1570763021","\/\/www.ageeyewear.com\/cdn\/shop\/products\/AGELOOKBOOK-231.jpg?v=1587939357"],"featured_image":"\/\/www.ageeyewear.com\/cdn\/shop\/products\/AGE_PRODUCT0215.jpg?v=1570763025","options":["Title"],"media":[{"alt":null,"id":5239543627819,"position":1,"preview_image":{"aspect_ratio":1.5,"height":320,"width":480,"src":"\/\/www.ageeyewear.com\/cdn\/shop\/products\/AGE_PRODUCT0215.jpg?v=1570763025"},"aspect_ratio":1.5,"height":320,"media_type":"image","src":"\/\/www.ageeyewear.com\/cdn\/shop\/products\/AGE_PRODUCT0215.jpg?v=1570763025","width":480},{"alt":null,"id":5239543595051,"position":2,"preview_image":{"aspect_ratio":1.5,"height":320,"width":480,"src":"\/\/www.ageeyewear.com\/cdn\/shop\/products\/AGE_PRODUCT0166_6d58bf72-8666-4557-ae7a-d68b84436209.jpg?v=1570763025"},"aspect_ratio":1.5,"height":320,"media_type":"image","src":"\/\/www.ageeyewear.com\/cdn\/shop\/products\/AGE_PRODUCT0166_6d58bf72-8666-4557-ae7a-d68b84436209.jpg?v=1570763025","width":480},{"alt":null,"id":5239543660587,"position":3,"preview_image":{"aspect_ratio":1.5,"height":320,"width":480,"src":"\/\/www.ageeyewear.com\/cdn\/shop\/products\/AGE_PRODUCT0296.jpg?v=1570763021"},"aspect_ratio":1.5,"height":320,"media_type":"image","src":"\/\/www.ageeyewear.com\/cdn\/shop\/products\/AGE_PRODUCT0296.jpg?v=1570763021","width":480},{"alt":null,"id":6056448884779,"position":4,"preview_image":{"aspect_ratio":0.667,"height":2048,"width":1365,"src":"\/\/www.ageeyewear.com\/cdn\/shop\/products\/AGELOOKBOOK-231.jpg?v=1587939357"},"aspect_ratio":0.667,"height":2048,"media_type":"image","src":"\/\/www.ageeyewear.com\/cdn\/shop\/products\/AGELOOKBOOK-231.jpg?v=1587939357","width":1365}],"content":"\u003cmeta charset=\"utf-8\"\u003e\n\u003cp\u003e\u003cspan\u003enoun\u003c\/span\u003e\u003cbr\u003e\u003cspan class=\"s1\"\u003ea thing or place that confines or imprisons.\u003c\/span\u003e\u003c\/p\u003e\n\u003cmeta charset=\"utf-8\"\u003e\u003cmeta charset=\"utf-8\"\u003e\n\u003cp class=\"p1\"\u003e\u003cspan class=\"s1\"\u003e\u003cspan\u003eA classic with a unique twist\u003c\/span\u003e - Hinting to the 1920's classic round frame and brought back to today with flattened lines on top and bottom. The fine temple carries the circular theme through with its precisely round temple tip.  \u003c\/span\u003e\u003c\/p\u003e\n\u003cmeta charset=\"utf-8\"\u003e\n\u003cp class=\"p1\"\u003e\u003cspan class=\"s1\"\u003eOcean blue contrasted with a splash of red - The beautiful depth of this colour is brought to life with the slight transparency of the acetate, allowing the light to shine through making the colours pop. Complete with Grey Gradient lenses, providing quality UV protection and high sun-glare reduction.\u003c\/span\u003e\u003c\/p\u003e\n\u003cp class=\"p1\"\u003e\u003cspan class=\"s1\"\u003e\u003c\/span\u003e\u003cspan\u003e \u003c\/span\u003e \u003c\/p\u003e\n\u003cul\u003e\n\u003cli\u003e136mm \/ 48mm (Width \/ Height)  (Width \/ Height) \u003c\/li\u003e\n\u003cli\u003eUV 400 \/ CR39 Lenses \/ Accommodates prescription lenses \u003c\/li\u003e\n\u003c\/ul\u003e\n\u003cp\u003e\u003cbr\u003e\u003cspan\u003eAll Age eyewear is handcrafted. Coming packaged with a cleaning cloth, semi-hard case, and box. Each pair comes with a one year warranty covering manufacturing faults.\u003c\/span\u003e\u003c\/p\u003e\n\u003cp class=\"p1\"\u003e \u003c\/p\u003e\n\u003cp class=\"p1\"\u003e\u003cspan class=\"s1\"\u003e \u003c\/span\u003e\u003c\/p\u003e"}
{"id":1835084644395,"title":"Cage - Black Optic","handle":"cage-black-optic","description":"\u003cmeta charset=\"utf-8\"\u003e\n\u003cp\u003e\u003cspan\u003enoun\u003c\/span\u003e\u003cbr\u003e\u003cspan class=\"s1\"\u003ea thing or place that confines or imprisons.\u003c\/span\u003e\u003c\/p\u003e\n\u003cmeta charset=\"utf-8\"\u003e\u003cmeta charset=\"utf-8\"\u003e\n\u003cp class=\"p1\"\u003e\u003cspan class=\"s1\"\u003e\u003cspan\u003eA classic with a unique twist\u003c\/span\u003e - Hinting to the 1920's classic round frame and brought back to today with flattened lines on top and bottom. The fine temple carries the circular theme through with its precisely round temple tip.  \u003c\/span\u003e\u003c\/p\u003e\n\u003cmeta charset=\"utf-8\"\u003e\n\u003cp class=\"p1\"\u003e\u003cspan class=\"s1\"\u003eClassic black acetate, c\u003c\/span\u003e\u003cspan\u003eomplete with \u003c\/span\u003e\u003cspan\u003eClear lenses, ready to have fitted with your prescription. \u003c\/span\u003e\u003c\/p\u003e\n\u003cp class=\"p1\"\u003e\u003cspan class=\"s1\"\u003e\u003c\/span\u003e\u003cspan\u003e \u003c\/span\u003e \u003c\/p\u003e\n\u003cul\u003e\n\u003cli\u003e136mm \/ 48mm (Width \/ Height)  (Width \/ Height) \u003c\/li\u003e\n\u003cli\u003eUV 400 \/ CR39 Lenses \/ Accommodates prescription lenses \u003c\/li\u003e\n\u003c\/ul\u003e\n\u003cp\u003e\u003cbr\u003e\u003cspan\u003eAll Age eyewear is handcrafted. Coming packaged with a cleaning cloth, semi-hard case, and box. Each pair comes with a one year warranty covering manufacturing faults.\u003c\/span\u003e\u003c\/p\u003e\n\u003cp class=\"p1\"\u003e \u003c\/p\u003e\n\u003cp class=\"p1\"\u003e\u003cspan class=\"s1\"\u003e \u003c\/span\u003e\u003c\/p\u003e","published_at":"2019-10-15T13:36:29+13:00","created_at":"2019-07-16T14:06:58+12:00","vendor":"AgeEyewear","type":"","tags":["Optic","Optics","Optics -\u003e Cage"],"price":22900,"price_min":22900,"price_max":22900,"available":true,"price_varies":false,"compare_at_price":null,"compare_at_price_min":0,"compare_at_price_max":0,"compare_at_price_varies":false,"variants":[{"id":16773125767211,"title":"Default Title","option1":"Default Title","option2":null,"option3":null,"sku":"7310","requires_shipping":true,"taxable":true,"featured_image":null,"available":true,"name":"Cage - Black Optic","public_title":null,"options":["Default Title"],"price":22900,"weight":0,"compare_at_price":null,"inventory_quantity":10,"inventory_management":"shopify","inventory_policy":"deny","barcode":""}],"images":["\/\/www.ageeyewear.com\/cdn\/shop\/products\/AGE_PRODUCT0209.jpg?v=1570762914","\/\/www.ageeyewear.com\/cdn\/shop\/products\/AGE_PRODUCT0297.jpg?v=1570762914","\/\/www.ageeyewear.com\/cdn\/shop\/products\/AGE_PRODUCT0144_9e090ac1-0d7f-4165-ab34-6598c0fb7058.jpg?v=1570762914"],"featured_image":"\/\/www.ageeyewear.com\/cdn\/shop\/products\/AGE_PRODUCT0209.jpg?v=1570762914","options":["Title"],"media":[{"alt":null,"id":5239540580395,"position":1,"preview_image":{"aspect_ratio":1.5,"height":320,"width":480,"src":"\/\/www.ageeyewear.com\/cdn\/shop\/products\/AGE_PRODUCT0209.jpg?v=1570762914"},"aspect_ratio":1.5,"height":320,"media_type":"image","src":"\/\/www.ageeyewear.com\/cdn\/shop\/products\/AGE_PRODUCT0209.jpg?v=1570762914","width":480},{"alt":null,"id":5239540613163,"position":2,"preview_image":{"aspect_ratio":1.5,"height":320,"width":480,"src":"\/\/www.ageeyewear.com\/cdn\/shop\/products\/AGE_PRODUCT0297.jpg?v=1570762914"},"aspect_ratio":1.5,"height":320,"media_type":"image","src":"\/\/www.ageeyewear.com\/cdn\/shop\/products\/AGE_PRODUCT0297.jpg?v=1570762914","width":480},{"alt":null,"id":5239540547627,"position":3,"preview_image":{"aspect_ratio":1.5,"height":320,"width":480,"src":"\/\/www.ageeyewear.com\/cdn\/shop\/products\/AGE_PRODUCT0144_9e090ac1-0d7f-4165-ab34-6598c0fb7058.jpg?v=1570762914"},"aspect_ratio":1.5,"height":320,"media_type":"image","src":"\/\/www.ageeyewear.com\/cdn\/shop\/products\/AGE_PRODUCT0144_9e090ac1-0d7f-4165-ab34-6598c0fb7058.jpg?v=1570762914","width":480}],"content":"\u003cmeta charset=\"utf-8\"\u003e\n\u003cp\u003e\u003cspan\u003enoun\u003c\/span\u003e\u003cbr\u003e\u003cspan class=\"s1\"\u003ea thing or place that confines or imprisons.\u003c\/span\u003e\u003c\/p\u003e\n\u003cmeta charset=\"utf-8\"\u003e\u003cmeta charset=\"utf-8\"\u003e\n\u003cp class=\"p1\"\u003e\u003cspan class=\"s1\"\u003e\u003cspan\u003eA classic with a unique twist\u003c\/span\u003e - Hinting to the 1920's classic round frame and brought back to today with flattened lines on top and bottom. The fine temple carries the circular theme through with its precisely round temple tip.  \u003c\/span\u003e\u003c\/p\u003e\n\u003cmeta charset=\"utf-8\"\u003e\n\u003cp class=\"p1\"\u003e\u003cspan class=\"s1\"\u003eClassic black acetate, c\u003c\/span\u003e\u003cspan\u003eomplete with \u003c\/span\u003e\u003cspan\u003eClear lenses, ready to have fitted with your prescription. \u003c\/span\u003e\u003c\/p\u003e\n\u003cp class=\"p1\"\u003e\u003cspan class=\"s1\"\u003e\u003c\/span\u003e\u003cspan\u003e \u003c\/span\u003e \u003c\/p\u003e\n\u003cul\u003e\n\u003cli\u003e136mm \/ 48mm (Width \/ Height)  (Width \/ Height) \u003c\/li\u003e\n\u003cli\u003eUV 400 \/ CR39 Lenses \/ Accommodates prescription lenses \u003c\/li\u003e\n\u003c\/ul\u003e\n\u003cp\u003e\u003cbr\u003e\u003cspan\u003eAll Age eyewear is handcrafted. Coming packaged with a cleaning cloth, semi-hard case, and box. Each pair comes with a one year warranty covering manufacturing faults.\u003c\/span\u003e\u003c\/p\u003e\n\u003cp class=\"p1\"\u003e \u003c\/p\u003e\n\u003cp class=\"p1\"\u003e\u003cspan class=\"s1\"\u003e \u003c\/span\u003e\u003c\/p\u003e"}