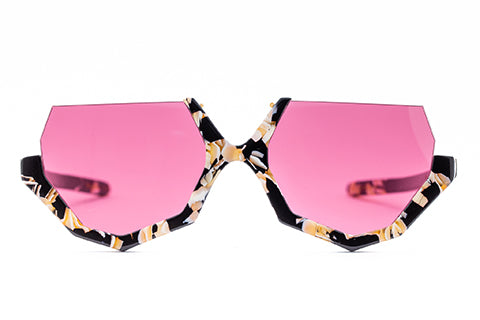 noun
The ability to reflect on one's self.

We have taken Flipage to the next level with a limited edition range of unique lens shapes and colour combos! 
Show stopping black and creamy blocks have been compressed to form this unique and luxurious look, complete with unique pink lenses.
114mm / 59mm (Width / Height) 
UV 400 / CR39 Lenses 

All Age eyewear is handcrafted. Coming packaged with a cleaning cloth, semi-hard case, and box. Each pair comes with a one year warranty covering manufacturing faults.
YOU MAY ALSO LOVE
{"id":4327245512747,"title":"Flipage LE - Fromage Tort w\/ Pink Cat Eye","handle":"flipage-le-fromage-tort-w-pink-cat-eye","description":"\u003cp\u003e\u003cspan\u003enoun\u003c\/span\u003e\u003cbr\u003eThe ability to reflect on one's self.\u003c\/p\u003e\n\u003cp\u003e\u003cbr\u003eWe have taken Flipage to the next level with a limited edition range of unique lenses and colour combos! \u003c\/p\u003e\n\u003cp\u003eFromage Tort with exaggerated cat eye pink lens.\u003c\/p\u003e\n\u003cul\u003e\n\u003cli\u003e114mm \/ 59mm (Width \/ Height)  \u003c\/li\u003e\n\u003cli\u003eUV 400 \/ CR39 Lenses \u003c\/li\u003e\n\u003c\/ul\u003e\n\u003cp\u003e\u003cbr\u003e\u003cspan\u003eAll Age eyewear is handcrafted. Coming packaged with a cleaning cloth, semi-hard case, and box. Each pair comes with a one year warranty covering manufacturing faults.\u003c\/span\u003e\u003c\/p\u003e","published_at":"2020-01-07T12:46:21+13:00","created_at":"2019-11-12T15:25:28+13:00","vendor":"AgeEyewear","type":"","tags":["Sunglasses","Sunglasses -\u003e Flipage LE"],"price":26900,"price_min":26900,"price_max":26900,"available":true,"price_varies":false,"compare_at_price":null,"compare_at_price_min":0,"compare_at_price_max":0,"compare_at_price_varies":false,"variants":[{"id":31076210147371,"title":"Default Title","option1":"Default Title","option2":null,"option3":null,"sku":"612 LE","requires_shipping":true,"taxable":true,"featured_image":null,"available":true,"name":"Flipage LE - Fromage Tort w\/ Pink Cat Eye","public_title":null,"options":["Default Title"],"price":26900,"weight":0,"compare_at_price":null,"inventory_quantity":1,"inventory_management":null,"inventory_policy":"deny","barcode":""}],"images":["\/\/www.ageeyewear.com\/cdn\/shop\/products\/AGE_PRODUCT0089.jpg?v=1573525583","\/\/www.ageeyewear.com\/cdn\/shop\/products\/AGE_PRODUCT0237.jpg?v=1573525608","\/\/www.ageeyewear.com\/cdn\/shop\/products\/AGE_PRODUCT0090.jpg?v=1573525608","\/\/www.ageeyewear.com\/cdn\/shop\/products\/Fromagew_pink.jpg?v=1587943048"],"featured_image":"\/\/www.ageeyewear.com\/cdn\/shop\/products\/AGE_PRODUCT0089.jpg?v=1573525583","options":["Title"],"media":[{"alt":null,"id":5513520545835,"position":1,"preview_image":{"aspect_ratio":1.5,"height":320,"width":480,"src":"\/\/www.ageeyewear.com\/cdn\/shop\/products\/AGE_PRODUCT0089.jpg?v=1573525583"},"aspect_ratio":1.5,"height":320,"media_type":"image","src":"\/\/www.ageeyewear.com\/cdn\/shop\/products\/AGE_PRODUCT0089.jpg?v=1573525583","width":480},{"alt":null,"id":5513522610219,"position":2,"preview_image":{"aspect_ratio":1.5,"height":320,"width":480,"src":"\/\/www.ageeyewear.com\/cdn\/shop\/products\/AGE_PRODUCT0237.jpg?v=1573525608"},"aspect_ratio":1.5,"height":320,"media_type":"image","src":"\/\/www.ageeyewear.com\/cdn\/shop\/products\/AGE_PRODUCT0237.jpg?v=1573525608","width":480},{"alt":null,"id":5513522642987,"position":3,"preview_image":{"aspect_ratio":1.5,"height":320,"width":480,"src":"\/\/www.ageeyewear.com\/cdn\/shop\/products\/AGE_PRODUCT0090.jpg?v=1573525608"},"aspect_ratio":1.5,"height":320,"media_type":"image","src":"\/\/www.ageeyewear.com\/cdn\/shop\/products\/AGE_PRODUCT0090.jpg?v=1573525608","width":480},{"alt":null,"id":6056554201131,"position":4,"preview_image":{"aspect_ratio":0.667,"height":2048,"width":1365,"src":"\/\/www.ageeyewear.com\/cdn\/shop\/products\/Fromagew_pink.jpg?v=1587943048"},"aspect_ratio":0.667,"height":2048,"media_type":"image","src":"\/\/www.ageeyewear.com\/cdn\/shop\/products\/Fromagew_pink.jpg?v=1587943048","width":1365}],"content":"\u003cp\u003e\u003cspan\u003enoun\u003c\/span\u003e\u003cbr\u003eThe ability to reflect on one's self.\u003c\/p\u003e\n\u003cp\u003e\u003cbr\u003eWe have taken Flipage to the next level with a limited edition range of unique lenses and colour combos! \u003c\/p\u003e\n\u003cp\u003eFromage Tort with exaggerated cat eye pink lens.\u003c\/p\u003e\n\u003cul\u003e\n\u003cli\u003e114mm \/ 59mm (Width \/ Height)  \u003c\/li\u003e\n\u003cli\u003eUV 400 \/ CR39 Lenses \u003c\/li\u003e\n\u003c\/ul\u003e\n\u003cp\u003e\u003cbr\u003e\u003cspan\u003eAll Age eyewear is handcrafted. Coming packaged with a cleaning cloth, semi-hard case, and box. Each pair comes with a one year warranty covering manufacturing faults.\u003c\/span\u003e\u003c\/p\u003e"}
{"id":4327243907115,"title":"Flipage LE - Black w\/ Blue Cat Eye","handle":"flipage-le-black-w-blue-cat-eye","description":"\u003cp\u003e\u003cspan\u003enoun\u003c\/span\u003e\u003cbr\u003eThe ability to reflect on one's self.\u003c\/p\u003e\n\u003cp\u003e\u003cbr\u003eWe have taken Flipage to the next level with a limited edition range of unique lens shapes and colour combos! \u003c\/p\u003e\n\u003cp\u003eClassic Black acetate with exaggerated cat eye blue lens.\u003c\/p\u003e\n\u003cul\u003e\n\u003cli\u003e114mm \/ 59mm (Width \/ Height)  \u003c\/li\u003e\n\u003cli\u003eUV 400 \/ CR39 Lenses\u003c\/li\u003e\n\u003c\/ul\u003e\n\u003cp\u003e\u003cbr\u003e\u003cspan\u003eAll Age eyewear is handcrafted. Coming packaged with a cleaning cloth, semi-hard case, and box. Each pair comes with a one year warranty covering manufacturing faults.\u003c\/span\u003e\u003c\/p\u003e","published_at":"2020-01-07T12:27:37+13:00","created_at":"2019-11-12T15:17:44+13:00","vendor":"AgeEyewear","type":"","tags":["Sunglasses","Sunglasses -\u003e Flipage LE"],"price":26900,"price_min":26900,"price_max":26900,"available":true,"price_varies":false,"compare_at_price":null,"compare_at_price_min":0,"compare_at_price_max":0,"compare_at_price_varies":false,"variants":[{"id":31076151689259,"title":"Default Title","option1":"Default Title","option2":null,"option3":null,"sku":"611 LE","requires_shipping":true,"taxable":true,"featured_image":null,"available":true,"name":"Flipage LE - Black w\/ Blue Cat Eye","public_title":null,"options":["Default Title"],"price":26900,"weight":0,"compare_at_price":null,"inventory_quantity":0,"inventory_management":null,"inventory_policy":"deny","barcode":""}],"images":["\/\/www.ageeyewear.com\/cdn\/shop\/products\/AGE_PRODUCT0074.jpg?v=1573525287","\/\/www.ageeyewear.com\/cdn\/shop\/products\/AGE_PRODUCT0232.jpg?v=1578353607","\/\/www.ageeyewear.com\/cdn\/shop\/products\/AGE_PRODUCT0076.jpg?v=1578353607","\/\/www.ageeyewear.com\/cdn\/shop\/products\/Blackw_blue.jpg?v=1587942985"],"featured_image":"\/\/www.ageeyewear.com\/cdn\/shop\/products\/AGE_PRODUCT0074.jpg?v=1573525287","options":["Title"],"media":[{"alt":null,"id":5513510027307,"position":1,"preview_image":{"aspect_ratio":1.5,"height":320,"width":480,"src":"\/\/www.ageeyewear.com\/cdn\/shop\/products\/AGE_PRODUCT0074.jpg?v=1573525287"},"aspect_ratio":1.5,"height":320,"media_type":"image","src":"\/\/www.ageeyewear.com\/cdn\/shop\/products\/AGE_PRODUCT0074.jpg?v=1573525287","width":480},{"alt":null,"id":5755746484267,"position":2,"preview_image":{"aspect_ratio":1.5,"height":320,"width":480,"src":"\/\/www.ageeyewear.com\/cdn\/shop\/products\/AGE_PRODUCT0232.jpg?v=1578353607"},"aspect_ratio":1.5,"height":320,"media_type":"image","src":"\/\/www.ageeyewear.com\/cdn\/shop\/products\/AGE_PRODUCT0232.jpg?v=1578353607","width":480},{"alt":null,"id":5755746517035,"position":3,"preview_image":{"aspect_ratio":1.5,"height":320,"width":480,"src":"\/\/www.ageeyewear.com\/cdn\/shop\/products\/AGE_PRODUCT0076.jpg?v=1578353607"},"aspect_ratio":1.5,"height":320,"media_type":"image","src":"\/\/www.ageeyewear.com\/cdn\/shop\/products\/AGE_PRODUCT0076.jpg?v=1578353607","width":480},{"alt":null,"id":6056550662187,"position":4,"preview_image":{"aspect_ratio":0.667,"height":2048,"width":1365,"src":"\/\/www.ageeyewear.com\/cdn\/shop\/products\/Blackw_blue.jpg?v=1587942985"},"aspect_ratio":0.667,"height":2048,"media_type":"image","src":"\/\/www.ageeyewear.com\/cdn\/shop\/products\/Blackw_blue.jpg?v=1587942985","width":1365}],"content":"\u003cp\u003e\u003cspan\u003enoun\u003c\/span\u003e\u003cbr\u003eThe ability to reflect on one's self.\u003c\/p\u003e\n\u003cp\u003e\u003cbr\u003eWe have taken Flipage to the next level with a limited edition range of unique lens shapes and colour combos! \u003c\/p\u003e\n\u003cp\u003eClassic Black acetate with exaggerated cat eye blue lens.\u003c\/p\u003e\n\u003cul\u003e\n\u003cli\u003e114mm \/ 59mm (Width \/ Height)  \u003c\/li\u003e\n\u003cli\u003eUV 400 \/ CR39 Lenses\u003c\/li\u003e\n\u003c\/ul\u003e\n\u003cp\u003e\u003cbr\u003e\u003cspan\u003eAll Age eyewear is handcrafted. Coming packaged with a cleaning cloth, semi-hard case, and box. Each pair comes with a one year warranty covering manufacturing faults.\u003c\/span\u003e\u003c\/p\u003e"}
{"id":4367593734187,"title":"Flipage LE - Red w\/ Blue Flat Top","handle":"flipage-le-red-w-blue-flat-top","description":"\u003cp\u003e\u003cspan\u003enoun\u003c\/span\u003e\u003cbr\u003eThe ability to reflect on one's self.\u003c\/p\u003e\n\u003cp\u003e\u003cbr\u003eWe have taken Flipage to the next level with a limited edition range of unique lens shapes and colour combos! \u003c\/p\u003e\n\u003cmeta charset=\"utf-8\"\u003e\n\u003cp\u003e\u003cspan\u003eAn Age signature colour way of red with pearl blocks compressed to create a stand out finish, contrast black temples, and \u003c\/span\u003eunique blue lenses.\u003c\/p\u003e\n\u003cul\u003e\n\u003cli\u003e114mm \/ 59mm (Width \/ Height) \u003c\/li\u003e\n\u003cli\u003eUV 400 \/ CR39 Lenses \u003c\/li\u003e\n\u003c\/ul\u003e\n\u003cp\u003e\u003cbr\u003e\u003cspan\u003eAll Age eyewear is handcrafted. Coming packaged with a cleaning cloth, semi-hard case, and box. Each pair comes with a one year warranty covering manufacturing faults.\u003c\/span\u003e\u003c\/p\u003e","published_at":"2020-01-07T12:46:21+13:00","created_at":"2020-01-07T12:34:11+13:00","vendor":"AgeEyewear","type":"","tags":["Sunglasses","Sunglasses -\u003e Flipage LE"],"price":26900,"price_min":26900,"price_max":26900,"available":true,"price_varies":false,"compare_at_price":null,"compare_at_price_min":0,"compare_at_price_max":0,"compare_at_price_varies":false,"variants":[{"id":31450365296683,"title":"Default Title","option1":"Default Title","option2":null,"option3":null,"sku":"615 LE","requires_shipping":true,"taxable":true,"featured_image":null,"available":true,"name":"Flipage LE - Red w\/ Blue Flat Top","public_title":null,"options":["Default Title"],"price":26900,"weight":0,"compare_at_price":null,"inventory_quantity":1,"inventory_management":null,"inventory_policy":"deny","barcode":""}],"images":["\/\/www.ageeyewear.com\/cdn\/shop\/products\/AGE_PRODUCT0085.jpg?v=1637099310","\/\/www.ageeyewear.com\/cdn\/shop\/products\/AGE_PRODUCT0233.jpg?v=1578353791","\/\/www.ageeyewear.com\/cdn\/shop\/products\/AGE_PRODUCT0086.jpg?v=1578353759","\/\/www.ageeyewear.com\/cdn\/shop\/products\/Redw_blue.jpg?v=1587943080"],"featured_image":"\/\/www.ageeyewear.com\/cdn\/shop\/products\/AGE_PRODUCT0085.jpg?v=1637099310","options":["Title"],"media":[{"alt":null,"id":5755749498923,"position":1,"preview_image":{"aspect_ratio":1.346,"height":298,"width":401,"src":"\/\/www.ageeyewear.com\/cdn\/shop\/products\/AGE_PRODUCT0085.jpg?v=1637099310"},"aspect_ratio":1.346,"height":298,"media_type":"image","src":"\/\/www.ageeyewear.com\/cdn\/shop\/products\/AGE_PRODUCT0085.jpg?v=1637099310","width":401},{"alt":null,"id":5755749466155,"position":2,"preview_image":{"aspect_ratio":1.5,"height":320,"width":480,"src":"\/\/www.ageeyewear.com\/cdn\/shop\/products\/AGE_PRODUCT0233.jpg?v=1578353791"},"aspect_ratio":1.5,"height":320,"media_type":"image","src":"\/\/www.ageeyewear.com\/cdn\/shop\/products\/AGE_PRODUCT0233.jpg?v=1578353791","width":480},{"alt":null,"id":5755749531691,"position":3,"preview_image":{"aspect_ratio":1.5,"height":320,"width":480,"src":"\/\/www.ageeyewear.com\/cdn\/shop\/products\/AGE_PRODUCT0086.jpg?v=1578353759"},"aspect_ratio":1.5,"height":320,"media_type":"image","src":"\/\/www.ageeyewear.com\/cdn\/shop\/products\/AGE_PRODUCT0086.jpg?v=1578353759","width":480},{"alt":null,"id":6056554430507,"position":4,"preview_image":{"aspect_ratio":0.667,"height":2048,"width":1365,"src":"\/\/www.ageeyewear.com\/cdn\/shop\/products\/Redw_blue.jpg?v=1587943080"},"aspect_ratio":0.667,"height":2048,"media_type":"image","src":"\/\/www.ageeyewear.com\/cdn\/shop\/products\/Redw_blue.jpg?v=1587943080","width":1365}],"content":"\u003cp\u003e\u003cspan\u003enoun\u003c\/span\u003e\u003cbr\u003eThe ability to reflect on one's self.\u003c\/p\u003e\n\u003cp\u003e\u003cbr\u003eWe have taken Flipage to the next level with a limited edition range of unique lens shapes and colour combos! \u003c\/p\u003e\n\u003cmeta charset=\"utf-8\"\u003e\n\u003cp\u003e\u003cspan\u003eAn Age signature colour way of red with pearl blocks compressed to create a stand out finish, contrast black temples, and \u003c\/span\u003eunique blue lenses.\u003c\/p\u003e\n\u003cul\u003e\n\u003cli\u003e114mm \/ 59mm (Width \/ Height) \u003c\/li\u003e\n\u003cli\u003eUV 400 \/ CR39 Lenses \u003c\/li\u003e\n\u003c\/ul\u003e\n\u003cp\u003e\u003cbr\u003e\u003cspan\u003eAll Age eyewear is handcrafted. Coming packaged with a cleaning cloth, semi-hard case, and box. Each pair comes with a one year warranty covering manufacturing faults.\u003c\/span\u003e\u003c\/p\u003e"}