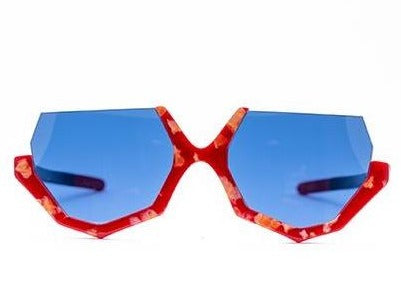 noun
The ability to reflect on one's self.

We have taken Flipage to the next level with a limited edition range of unique lens shapes and colour combos! 
An Age signature colour way of red with pearl blocks compressed to create a stand out finish, contrast black temples, and unique blue lenses.
114mm / 59mm (Width / Height) 
UV 400 / CR39 Lenses 

All Age eyewear is handcrafted. Coming packaged with a cleaning cloth, semi-hard case, and box. Each pair comes with a one year warranty covering manufacturing faults.
YOU MAY ALSO LOVE
{"id":4327245512747,"title":"Flipage LE - Fromage Tort w\/ Pink Cat Eye","handle":"flipage-le-fromage-tort-w-pink-cat-eye","description":"\u003cp\u003e\u003cspan\u003enoun\u003c\/span\u003e\u003cbr\u003eThe ability to reflect on one's self.\u003c\/p\u003e\n\u003cp\u003e\u003cbr\u003eWe have taken Flipage to the next level with a limited edition range of unique lenses and colour combos! \u003c\/p\u003e\n\u003cp\u003eFromage Tort with exaggerated cat eye pink lens.\u003c\/p\u003e\n\u003cul\u003e\n\u003cli\u003e114mm \/ 59mm (Width \/ Height)  \u003c\/li\u003e\n\u003cli\u003eUV 400 \/ CR39 Lenses \u003c\/li\u003e\n\u003c\/ul\u003e\n\u003cp\u003e\u003cbr\u003e\u003cspan\u003eAll Age eyewear is handcrafted. Coming packaged with a cleaning cloth, semi-hard case, and box. Each pair comes with a one year warranty covering manufacturing faults.\u003c\/span\u003e\u003c\/p\u003e","published_at":"2020-01-07T12:46:21+13:00","created_at":"2019-11-12T15:25:28+13:00","vendor":"AgeEyewear","type":"","tags":["Sunglasses","Sunglasses -\u003e Flipage LE"],"price":26900,"price_min":26900,"price_max":26900,"available":true,"price_varies":false,"compare_at_price":null,"compare_at_price_min":0,"compare_at_price_max":0,"compare_at_price_varies":false,"variants":[{"id":31076210147371,"title":"Default Title","option1":"Default Title","option2":null,"option3":null,"sku":"612 LE","requires_shipping":true,"taxable":true,"featured_image":null,"available":true,"name":"Flipage LE - Fromage Tort w\/ Pink Cat Eye","public_title":null,"options":["Default Title"],"price":26900,"weight":0,"compare_at_price":null,"inventory_quantity":1,"inventory_management":null,"inventory_policy":"deny","barcode":""}],"images":["\/\/www.ageeyewear.com\/cdn\/shop\/products\/AGE_PRODUCT0089.jpg?v=1573525583","\/\/www.ageeyewear.com\/cdn\/shop\/products\/AGE_PRODUCT0237.jpg?v=1573525608","\/\/www.ageeyewear.com\/cdn\/shop\/products\/AGE_PRODUCT0090.jpg?v=1573525608","\/\/www.ageeyewear.com\/cdn\/shop\/products\/Fromagew_pink.jpg?v=1587943048"],"featured_image":"\/\/www.ageeyewear.com\/cdn\/shop\/products\/AGE_PRODUCT0089.jpg?v=1573525583","options":["Title"],"media":[{"alt":null,"id":5513520545835,"position":1,"preview_image":{"aspect_ratio":1.5,"height":320,"width":480,"src":"\/\/www.ageeyewear.com\/cdn\/shop\/products\/AGE_PRODUCT0089.jpg?v=1573525583"},"aspect_ratio":1.5,"height":320,"media_type":"image","src":"\/\/www.ageeyewear.com\/cdn\/shop\/products\/AGE_PRODUCT0089.jpg?v=1573525583","width":480},{"alt":null,"id":5513522610219,"position":2,"preview_image":{"aspect_ratio":1.5,"height":320,"width":480,"src":"\/\/www.ageeyewear.com\/cdn\/shop\/products\/AGE_PRODUCT0237.jpg?v=1573525608"},"aspect_ratio":1.5,"height":320,"media_type":"image","src":"\/\/www.ageeyewear.com\/cdn\/shop\/products\/AGE_PRODUCT0237.jpg?v=1573525608","width":480},{"alt":null,"id":5513522642987,"position":3,"preview_image":{"aspect_ratio":1.5,"height":320,"width":480,"src":"\/\/www.ageeyewear.com\/cdn\/shop\/products\/AGE_PRODUCT0090.jpg?v=1573525608"},"aspect_ratio":1.5,"height":320,"media_type":"image","src":"\/\/www.ageeyewear.com\/cdn\/shop\/products\/AGE_PRODUCT0090.jpg?v=1573525608","width":480},{"alt":null,"id":6056554201131,"position":4,"preview_image":{"aspect_ratio":0.667,"height":2048,"width":1365,"src":"\/\/www.ageeyewear.com\/cdn\/shop\/products\/Fromagew_pink.jpg?v=1587943048"},"aspect_ratio":0.667,"height":2048,"media_type":"image","src":"\/\/www.ageeyewear.com\/cdn\/shop\/products\/Fromagew_pink.jpg?v=1587943048","width":1365}],"content":"\u003cp\u003e\u003cspan\u003enoun\u003c\/span\u003e\u003cbr\u003eThe ability to reflect on one's self.\u003c\/p\u003e\n\u003cp\u003e\u003cbr\u003eWe have taken Flipage to the next level with a limited edition range of unique lenses and colour combos! \u003c\/p\u003e\n\u003cp\u003eFromage Tort with exaggerated cat eye pink lens.\u003c\/p\u003e\n\u003cul\u003e\n\u003cli\u003e114mm \/ 59mm (Width \/ Height)  \u003c\/li\u003e\n\u003cli\u003eUV 400 \/ CR39 Lenses \u003c\/li\u003e\n\u003c\/ul\u003e\n\u003cp\u003e\u003cbr\u003e\u003cspan\u003eAll Age eyewear is handcrafted. Coming packaged with a cleaning cloth, semi-hard case, and box. Each pair comes with a one year warranty covering manufacturing faults.\u003c\/span\u003e\u003c\/p\u003e"}
{"id":4327243907115,"title":"Flipage LE - Black w\/ Blue Cat Eye","handle":"flipage-le-black-w-blue-cat-eye","description":"\u003cp\u003e\u003cspan\u003enoun\u003c\/span\u003e\u003cbr\u003eThe ability to reflect on one's self.\u003c\/p\u003e\n\u003cp\u003e\u003cbr\u003eWe have taken Flipage to the next level with a limited edition range of unique lens shapes and colour combos! \u003c\/p\u003e\n\u003cp\u003eClassic Black acetate with exaggerated cat eye blue lens.\u003c\/p\u003e\n\u003cul\u003e\n\u003cli\u003e114mm \/ 59mm (Width \/ Height)  \u003c\/li\u003e\n\u003cli\u003eUV 400 \/ CR39 Lenses\u003c\/li\u003e\n\u003c\/ul\u003e\n\u003cp\u003e\u003cbr\u003e\u003cspan\u003eAll Age eyewear is handcrafted. Coming packaged with a cleaning cloth, semi-hard case, and box. Each pair comes with a one year warranty covering manufacturing faults.\u003c\/span\u003e\u003c\/p\u003e","published_at":"2020-01-07T12:27:37+13:00","created_at":"2019-11-12T15:17:44+13:00","vendor":"AgeEyewear","type":"","tags":["Sunglasses","Sunglasses -\u003e Flipage LE"],"price":26900,"price_min":26900,"price_max":26900,"available":true,"price_varies":false,"compare_at_price":null,"compare_at_price_min":0,"compare_at_price_max":0,"compare_at_price_varies":false,"variants":[{"id":31076151689259,"title":"Default Title","option1":"Default Title","option2":null,"option3":null,"sku":"611 LE","requires_shipping":true,"taxable":true,"featured_image":null,"available":true,"name":"Flipage LE - Black w\/ Blue Cat Eye","public_title":null,"options":["Default Title"],"price":26900,"weight":0,"compare_at_price":null,"inventory_quantity":0,"inventory_management":null,"inventory_policy":"deny","barcode":""}],"images":["\/\/www.ageeyewear.com\/cdn\/shop\/products\/AGE_PRODUCT0074.jpg?v=1573525287","\/\/www.ageeyewear.com\/cdn\/shop\/products\/AGE_PRODUCT0232.jpg?v=1578353607","\/\/www.ageeyewear.com\/cdn\/shop\/products\/AGE_PRODUCT0076.jpg?v=1578353607","\/\/www.ageeyewear.com\/cdn\/shop\/products\/Blackw_blue.jpg?v=1587942985"],"featured_image":"\/\/www.ageeyewear.com\/cdn\/shop\/products\/AGE_PRODUCT0074.jpg?v=1573525287","options":["Title"],"media":[{"alt":null,"id":5513510027307,"position":1,"preview_image":{"aspect_ratio":1.5,"height":320,"width":480,"src":"\/\/www.ageeyewear.com\/cdn\/shop\/products\/AGE_PRODUCT0074.jpg?v=1573525287"},"aspect_ratio":1.5,"height":320,"media_type":"image","src":"\/\/www.ageeyewear.com\/cdn\/shop\/products\/AGE_PRODUCT0074.jpg?v=1573525287","width":480},{"alt":null,"id":5755746484267,"position":2,"preview_image":{"aspect_ratio":1.5,"height":320,"width":480,"src":"\/\/www.ageeyewear.com\/cdn\/shop\/products\/AGE_PRODUCT0232.jpg?v=1578353607"},"aspect_ratio":1.5,"height":320,"media_type":"image","src":"\/\/www.ageeyewear.com\/cdn\/shop\/products\/AGE_PRODUCT0232.jpg?v=1578353607","width":480},{"alt":null,"id":5755746517035,"position":3,"preview_image":{"aspect_ratio":1.5,"height":320,"width":480,"src":"\/\/www.ageeyewear.com\/cdn\/shop\/products\/AGE_PRODUCT0076.jpg?v=1578353607"},"aspect_ratio":1.5,"height":320,"media_type":"image","src":"\/\/www.ageeyewear.com\/cdn\/shop\/products\/AGE_PRODUCT0076.jpg?v=1578353607","width":480},{"alt":null,"id":6056550662187,"position":4,"preview_image":{"aspect_ratio":0.667,"height":2048,"width":1365,"src":"\/\/www.ageeyewear.com\/cdn\/shop\/products\/Blackw_blue.jpg?v=1587942985"},"aspect_ratio":0.667,"height":2048,"media_type":"image","src":"\/\/www.ageeyewear.com\/cdn\/shop\/products\/Blackw_blue.jpg?v=1587942985","width":1365}],"content":"\u003cp\u003e\u003cspan\u003enoun\u003c\/span\u003e\u003cbr\u003eThe ability to reflect on one's self.\u003c\/p\u003e\n\u003cp\u003e\u003cbr\u003eWe have taken Flipage to the next level with a limited edition range of unique lens shapes and colour combos! \u003c\/p\u003e\n\u003cp\u003eClassic Black acetate with exaggerated cat eye blue lens.\u003c\/p\u003e\n\u003cul\u003e\n\u003cli\u003e114mm \/ 59mm (Width \/ Height)  \u003c\/li\u003e\n\u003cli\u003eUV 400 \/ CR39 Lenses\u003c\/li\u003e\n\u003c\/ul\u003e\n\u003cp\u003e\u003cbr\u003e\u003cspan\u003eAll Age eyewear is handcrafted. Coming packaged with a cleaning cloth, semi-hard case, and box. Each pair comes with a one year warranty covering manufacturing faults.\u003c\/span\u003e\u003c\/p\u003e"}
{"id":4367594422315,"title":"Flipage LE - Black\/ Cream w\/ Pink Flat Top","handle":"flipage-le-black-cream-w-pink-flat-top","description":"\u003cp\u003e\u003cspan\u003enoun\u003c\/span\u003e\u003cbr\u003eThe ability to reflect on one's self.\u003c\/p\u003e\n\u003cp\u003e\u003cbr\u003eWe have taken Flipage to the next level with a limited edition range of unique lens shapes and colour combos! \u003c\/p\u003e\n\u003cmeta charset=\"utf-8\"\u003e\u003cmeta charset=\"utf-8\"\u003e\n\u003cp\u003e\u003cspan\u003eShow stopping black and creamy blocks have been compressed to form this unique and luxurious look, complete with \u003c\/span\u003eunique pink lenses.\u003c\/p\u003e\n\u003cul\u003e\n\u003cli\u003e114mm \/ 59mm (Width \/ Height) \u003c\/li\u003e\n\u003cli\u003eUV 400 \/ CR39 Lenses \u003c\/li\u003e\n\u003c\/ul\u003e\n\u003cp\u003e\u003cbr\u003e\u003cspan\u003eAll Age eyewear is handcrafted. Coming packaged with a cleaning cloth, semi-hard case, and box. Each pair comes with a one year warranty covering manufacturing faults.\u003c\/span\u003e\u003c\/p\u003e","published_at":"2020-01-07T12:46:21+13:00","created_at":"2020-01-07T12:38:44+13:00","vendor":"AgeEyewear","type":"","tags":["Sunglasses","Sunglasses -\u003e Flipage LE"],"price":26900,"price_min":26900,"price_max":26900,"available":true,"price_varies":false,"compare_at_price":null,"compare_at_price_min":0,"compare_at_price_max":0,"compare_at_price_varies":false,"variants":[{"id":31450368213035,"title":"Default Title","option1":"Default Title","option2":null,"option3":null,"sku":"613 LE","requires_shipping":true,"taxable":true,"featured_image":null,"available":true,"name":"Flipage LE - Black\/ Cream w\/ Pink Flat Top","public_title":null,"options":["Default Title"],"price":26900,"weight":0,"compare_at_price":null,"inventory_quantity":1,"inventory_management":null,"inventory_policy":"deny","barcode":""}],"images":["\/\/www.ageeyewear.com\/cdn\/shop\/products\/AGE_PRODUCT0136.jpg?v=1578353963","\/\/www.ageeyewear.com\/cdn\/shop\/products\/AGE_PRODUCT0254.jpg?v=1578353963","\/\/www.ageeyewear.com\/cdn\/shop\/products\/AGE_PRODUCT0137.jpg?v=1578353963","\/\/www.ageeyewear.com\/cdn\/shop\/products\/Blackcream_8f055b3d-8965-4407-a0b5-f2fe06060155.jpg?v=1587943017"],"featured_image":"\/\/www.ageeyewear.com\/cdn\/shop\/products\/AGE_PRODUCT0136.jpg?v=1578353963","options":["Title"],"media":[{"alt":null,"id":5755751137323,"position":1,"preview_image":{"aspect_ratio":1.5,"height":320,"width":480,"src":"\/\/www.ageeyewear.com\/cdn\/shop\/products\/AGE_PRODUCT0136.jpg?v=1578353963"},"aspect_ratio":1.5,"height":320,"media_type":"image","src":"\/\/www.ageeyewear.com\/cdn\/shop\/products\/AGE_PRODUCT0136.jpg?v=1578353963","width":480},{"alt":null,"id":5755751170091,"position":2,"preview_image":{"aspect_ratio":1.5,"height":320,"width":480,"src":"\/\/www.ageeyewear.com\/cdn\/shop\/products\/AGE_PRODUCT0254.jpg?v=1578353963"},"aspect_ratio":1.5,"height":320,"media_type":"image","src":"\/\/www.ageeyewear.com\/cdn\/shop\/products\/AGE_PRODUCT0254.jpg?v=1578353963","width":480},{"alt":null,"id":5755751104555,"position":3,"preview_image":{"aspect_ratio":1.5,"height":320,"width":480,"src":"\/\/www.ageeyewear.com\/cdn\/shop\/products\/AGE_PRODUCT0137.jpg?v=1578353963"},"aspect_ratio":1.5,"height":320,"media_type":"image","src":"\/\/www.ageeyewear.com\/cdn\/shop\/products\/AGE_PRODUCT0137.jpg?v=1578353963","width":480},{"alt":null,"id":6056553152555,"position":4,"preview_image":{"aspect_ratio":0.667,"height":2048,"width":1365,"src":"\/\/www.ageeyewear.com\/cdn\/shop\/products\/Blackcream_8f055b3d-8965-4407-a0b5-f2fe06060155.jpg?v=1587943017"},"aspect_ratio":0.667,"height":2048,"media_type":"image","src":"\/\/www.ageeyewear.com\/cdn\/shop\/products\/Blackcream_8f055b3d-8965-4407-a0b5-f2fe06060155.jpg?v=1587943017","width":1365}],"content":"\u003cp\u003e\u003cspan\u003enoun\u003c\/span\u003e\u003cbr\u003eThe ability to reflect on one's self.\u003c\/p\u003e\n\u003cp\u003e\u003cbr\u003eWe have taken Flipage to the next level with a limited edition range of unique lens shapes and colour combos! \u003c\/p\u003e\n\u003cmeta charset=\"utf-8\"\u003e\u003cmeta charset=\"utf-8\"\u003e\n\u003cp\u003e\u003cspan\u003eShow stopping black and creamy blocks have been compressed to form this unique and luxurious look, complete with \u003c\/span\u003eunique pink lenses.\u003c\/p\u003e\n\u003cul\u003e\n\u003cli\u003e114mm \/ 59mm (Width \/ Height) \u003c\/li\u003e\n\u003cli\u003eUV 400 \/ CR39 Lenses \u003c\/li\u003e\n\u003c\/ul\u003e\n\u003cp\u003e\u003cbr\u003e\u003cspan\u003eAll Age eyewear is handcrafted. Coming packaged with a cleaning cloth, semi-hard case, and box. Each pair comes with a one year warranty covering manufacturing faults.\u003c\/span\u003e\u003c\/p\u003e"}