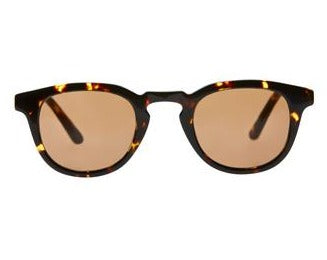 noun
one or both sides of a sheet of paper in a book, magazine, newspaper, or other collection of bound sheets.
New season classic Page is sharp and sleek. Suitable for both men and women, the superb fit makes these frames incredibly comfortable and easy to wear. 
 Featuring specs of golden hues through the darkness this acetate is our contemporary take on a classic. Brown tones following through from frame to lens offering a cohesive finish. Brown Gradient Lens
144mm / 50mm (Width / Height) 
UV 400 / CR39 Lenses / Accommodates prescription lenses 
All Age eyewear is handcrafted and comes packaged with a cleaning cloth, semi hard case and box. Each pair comes with a one year warranty covering manufacturing faults.
YOU MAY ALSO LOVE
{"id":1472318177323,"title":"Page - Black","handle":"page-black","description":"\u003cp\u003e\u003cem\u003enoun\u003c\/em\u003e\u003c\/p\u003e\n\u003cp\u003eone or both sides of a sheet of paper in a book, magazine, newspaper, or other collection of bound sheets.\u003c\/p\u003e\n\u003cp\u003e \u003c\/p\u003e\n\u003cp\u003eNew season classic Page is sharp and sleek. Suitable for both men and women, the superb fit makes these frames incredibly comfortable and easy to wear. \u003c\/p\u003e\n\u003cp\u003e \u003c\/p\u003e\n\u003cp\u003eAn Age Eyewear classic, the multi-layered temple acetate in our signature Bone and Black stands out from the crowd with that extra attention to detail. \u003c\/p\u003e\n\u003cul\u003e\n\u003cli\u003e144mm \/ 50mm (Width \/ Height) \u003c\/li\u003e\n\u003c\/ul\u003e\n\u003cul\u003e\n\u003cli\u003eUV 400 \/ CR39 Lenses \/ Accommodates prescription lenses \u003c\/li\u003e\n\u003c\/ul\u003e\n\u003cp\u003e \u003c\/p\u003e\n\u003cp\u003eAll Age eyewear is handcrafted and comes packaged with a cleaning cloth, semi hard case and box. Each pair comes with a one year warranty covering manufacturing faults.\u003c\/p\u003e\n\u003cp\u003e \u003c\/p\u003e\n\u003cp\u003e \u003c\/p\u003e\n\u003cul\u003e\u003c\/ul\u003e","published_at":"2018-10-24T10:53:17+13:00","created_at":"2018-09-06T15:20:23+12:00","vendor":"AgeEyewear","type":"","tags":["Sunglasses -\u003e Page"],"price":22900,"price_min":22900,"price_max":22900,"available":true,"price_varies":false,"compare_at_price":null,"compare_at_price_min":0,"compare_at_price_max":0,"compare_at_price_varies":false,"variants":[{"id":13702842187819,"title":"Default Title","option1":"Default Title","option2":null,"option3":null,"sku":"631","requires_shipping":true,"taxable":true,"featured_image":null,"available":true,"name":"Page - Black","public_title":null,"options":["Default Title"],"price":22900,"weight":0,"compare_at_price":null,"inventory_quantity":-2,"inventory_management":null,"inventory_policy":"deny","barcode":""}],"images":["\/\/www.ageeyewear.com\/cdn\/shop\/products\/3041AgeCollection.jpg?v=1637099738","\/\/www.ageeyewear.com\/cdn\/shop\/products\/3170AgeCollection.jpg?v=1540244511","\/\/www.ageeyewear.com\/cdn\/shop\/products\/3113AgeCollection.jpg?v=1540244511"],"featured_image":"\/\/www.ageeyewear.com\/cdn\/shop\/products\/3041AgeCollection.jpg?v=1637099738","options":["Title"],"media":[{"alt":null,"id":2541990248491,"position":1,"preview_image":{"aspect_ratio":1.258,"height":260,"width":327,"src":"\/\/www.ageeyewear.com\/cdn\/shop\/products\/3041AgeCollection.jpg?v=1637099738"},"aspect_ratio":1.258,"height":260,"media_type":"image","src":"\/\/www.ageeyewear.com\/cdn\/shop\/products\/3041AgeCollection.jpg?v=1637099738","width":327},{"alt":null,"id":2541990281259,"position":2,"preview_image":{"aspect_ratio":1.5,"height":320,"width":480,"src":"\/\/www.ageeyewear.com\/cdn\/shop\/products\/3170AgeCollection.jpg?v=1540244511"},"aspect_ratio":1.5,"height":320,"media_type":"image","src":"\/\/www.ageeyewear.com\/cdn\/shop\/products\/3170AgeCollection.jpg?v=1540244511","width":480},{"alt":null,"id":2541990215723,"position":3,"preview_image":{"aspect_ratio":1.771,"height":271,"width":480,"src":"\/\/www.ageeyewear.com\/cdn\/shop\/products\/3113AgeCollection.jpg?v=1540244511"},"aspect_ratio":1.771,"height":271,"media_type":"image","src":"\/\/www.ageeyewear.com\/cdn\/shop\/products\/3113AgeCollection.jpg?v=1540244511","width":480}],"content":"\u003cp\u003e\u003cem\u003enoun\u003c\/em\u003e\u003c\/p\u003e\n\u003cp\u003eone or both sides of a sheet of paper in a book, magazine, newspaper, or other collection of bound sheets.\u003c\/p\u003e\n\u003cp\u003e \u003c\/p\u003e\n\u003cp\u003eNew season classic Page is sharp and sleek. Suitable for both men and women, the superb fit makes these frames incredibly comfortable and easy to wear. \u003c\/p\u003e\n\u003cp\u003e \u003c\/p\u003e\n\u003cp\u003eAn Age Eyewear classic, the multi-layered temple acetate in our signature Bone and Black stands out from the crowd with that extra attention to detail. \u003c\/p\u003e\n\u003cul\u003e\n\u003cli\u003e144mm \/ 50mm (Width \/ Height) \u003c\/li\u003e\n\u003c\/ul\u003e\n\u003cul\u003e\n\u003cli\u003eUV 400 \/ CR39 Lenses \/ Accommodates prescription lenses \u003c\/li\u003e\n\u003c\/ul\u003e\n\u003cp\u003e \u003c\/p\u003e\n\u003cp\u003eAll Age eyewear is handcrafted and comes packaged with a cleaning cloth, semi hard case and box. Each pair comes with a one year warranty covering manufacturing faults.\u003c\/p\u003e\n\u003cp\u003e \u003c\/p\u003e\n\u003cp\u003e \u003c\/p\u003e\n\u003cul\u003e\u003c\/ul\u003e"}
{"id":1472363266091,"title":"Page - Amber Tort to Tan","handle":"page-amber-tort-to-tan","description":"\u003cmeta charset=\"utf-8\"\u003e\n\u003cp\u003e\u003cem\u003enoun\u003c\/em\u003e\u003c\/p\u003e\n\u003cp\u003eone or both sides of a sheet of paper in a book, magazine, newspaper, or other collection of bound sheets.\u003c\/p\u003e\n\u003cp\u003e \u003c\/p\u003e\n\u003cp\u003eNew season classic Page is sharp and sleek. Suitable for both men and women, the superb fit makes these frames incredibly comfortable and easy to wear. \u003c\/p\u003e\n\u003cp\u003e An Age Eyewear classic, the multi-layered acetate featuring Amber Tort paired with Light Brown a beautiful tone that stands out without overpowering. Brown Gradient Lens.\u003c\/p\u003e\n\u003cul\u003e\n\u003cli\u003e144mm \/ 50mm (Width \/ Height) \u003c\/li\u003e\n\u003c\/ul\u003e\n\u003cul\u003e\n\u003cli\u003eUV 400 \/ CR39 Lenses \/ Accommodates prescription lenses \u003c\/li\u003e\n\u003c\/ul\u003e\n\u003cul\u003e\u003c\/ul\u003e\n\u003cp\u003e \u003c\/p\u003e\n\u003cp\u003eAll Age eyewear is handcrafted and comes packaged with a cleaning cloth, semi hard case and box. Each pair comes with a one year warranty covering manufacturing faults.\u003c\/p\u003e\n\u003cp\u003e \u003c\/p\u003e","published_at":"2018-10-24T10:53:18+13:00","created_at":"2018-09-06T15:54:01+12:00","vendor":"AgeEyewear","type":"","tags":["Sunglasses -\u003e Page"],"price":22900,"price_min":22900,"price_max":22900,"available":true,"price_varies":false,"compare_at_price":null,"compare_at_price_min":0,"compare_at_price_max":0,"compare_at_price_varies":false,"variants":[{"id":13703222689835,"title":"Default Title","option1":"Default Title","option2":null,"option3":null,"sku":"633","requires_shipping":true,"taxable":true,"featured_image":null,"available":true,"name":"Page - Amber Tort to Tan","public_title":null,"options":["Default Title"],"price":22900,"weight":0,"compare_at_price":null,"inventory_quantity":0,"inventory_management":null,"inventory_policy":"deny","barcode":""}],"images":["\/\/www.ageeyewear.com\/cdn\/shop\/products\/3037AgeCollection.jpg?v=1637099612","\/\/www.ageeyewear.com\/cdn\/shop\/products\/3175AgeCollection.jpg?v=1540244381","\/\/www.ageeyewear.com\/cdn\/shop\/products\/3110AgeCollection.jpg?v=1540244381"],"featured_image":"\/\/www.ageeyewear.com\/cdn\/shop\/products\/3037AgeCollection.jpg?v=1637099612","options":["Title"],"media":[{"alt":null,"id":2541988839467,"position":1,"preview_image":{"aspect_ratio":1.258,"height":260,"width":327,"src":"\/\/www.ageeyewear.com\/cdn\/shop\/products\/3037AgeCollection.jpg?v=1637099612"},"aspect_ratio":1.258,"height":260,"media_type":"image","src":"\/\/www.ageeyewear.com\/cdn\/shop\/products\/3037AgeCollection.jpg?v=1637099612","width":327},{"alt":null,"id":2541988544555,"position":2,"preview_image":{"aspect_ratio":1.5,"height":320,"width":480,"src":"\/\/www.ageeyewear.com\/cdn\/shop\/products\/3175AgeCollection.jpg?v=1540244381"},"aspect_ratio":1.5,"height":320,"media_type":"image","src":"\/\/www.ageeyewear.com\/cdn\/shop\/products\/3175AgeCollection.jpg?v=1540244381","width":480},{"alt":null,"id":2541988806699,"position":3,"preview_image":{"aspect_ratio":1.771,"height":271,"width":480,"src":"\/\/www.ageeyewear.com\/cdn\/shop\/products\/3110AgeCollection.jpg?v=1540244381"},"aspect_ratio":1.771,"height":271,"media_type":"image","src":"\/\/www.ageeyewear.com\/cdn\/shop\/products\/3110AgeCollection.jpg?v=1540244381","width":480}],"content":"\u003cmeta charset=\"utf-8\"\u003e\n\u003cp\u003e\u003cem\u003enoun\u003c\/em\u003e\u003c\/p\u003e\n\u003cp\u003eone or both sides of a sheet of paper in a book, magazine, newspaper, or other collection of bound sheets.\u003c\/p\u003e\n\u003cp\u003e \u003c\/p\u003e\n\u003cp\u003eNew season classic Page is sharp and sleek. Suitable for both men and women, the superb fit makes these frames incredibly comfortable and easy to wear. \u003c\/p\u003e\n\u003cp\u003e An Age Eyewear classic, the multi-layered acetate featuring Amber Tort paired with Light Brown a beautiful tone that stands out without overpowering. Brown Gradient Lens.\u003c\/p\u003e\n\u003cul\u003e\n\u003cli\u003e144mm \/ 50mm (Width \/ Height) \u003c\/li\u003e\n\u003c\/ul\u003e\n\u003cul\u003e\n\u003cli\u003eUV 400 \/ CR39 Lenses \/ Accommodates prescription lenses \u003c\/li\u003e\n\u003c\/ul\u003e\n\u003cul\u003e\u003c\/ul\u003e\n\u003cp\u003e \u003c\/p\u003e\n\u003cp\u003eAll Age eyewear is handcrafted and comes packaged with a cleaning cloth, semi hard case and box. Each pair comes with a one year warranty covering manufacturing faults.\u003c\/p\u003e\n\u003cp\u003e \u003c\/p\u003e"}
{"id":1472373522475,"title":"Page - Blue Tort","handle":"page-blue-tort","description":"\u003cmeta charset=\"utf-8\"\u003e\n\u003cp\u003e\u003cem\u003enoun\u003c\/em\u003e\u003c\/p\u003e\n\u003cp\u003eone or both sides of a sheet of paper in a book, magazine, newspaper, or other collection of bound sheets.\u003c\/p\u003e\n\u003cp\u003eNew season classic Page is sharp and sleek. Suitable for both men and women, the superb fit makes these frames incredibly comfortable and easy to wear. \u003c\/p\u003e\n\u003cp\u003eVarious mottled tones of blue create the depth and beauty in this colour. More translucent areas it allows the sun to shine through and make them stand out. Grey Gradient Lens.\u003cbr\u003e\u003cbr\u003e\u003c\/p\u003e\n\u003cul\u003e\n\u003cli\u003e144mm \/ 50mm (Width \/ Height) \u003c\/li\u003e\n\u003c\/ul\u003e\n\u003cul\u003e\n\u003cli\u003eUV 400 \/ CR39 Lenses \/ Accommodates prescription lenses \u003c\/li\u003e\n\u003c\/ul\u003e\n\u003cp\u003eAll Age eyewear is handcrafted and comes packaged with a cleaning cloth, semi hard case and box. Each pair comes with a one year warranty covering manufacturing faults.\u003c\/p\u003e\n\u003cp\u003e \u003c\/p\u003e","published_at":"2018-10-24T10:53:18+13:00","created_at":"2018-09-06T16:04:18+12:00","vendor":"AgeEyewear","type":"","tags":["Sunglasses -\u003e Page"],"price":22900,"price_min":22900,"price_max":22900,"available":true,"price_varies":false,"compare_at_price":null,"compare_at_price_min":0,"compare_at_price_max":0,"compare_at_price_varies":false,"variants":[{"id":13703300710443,"title":"Default Title","option1":"Default Title","option2":null,"option3":null,"sku":"634","requires_shipping":true,"taxable":true,"featured_image":null,"available":true,"name":"Page - Blue Tort","public_title":null,"options":["Default Title"],"price":22900,"weight":0,"compare_at_price":null,"inventory_quantity":1,"inventory_management":null,"inventory_policy":"deny","barcode":""}],"images":["\/\/www.ageeyewear.com\/cdn\/shop\/products\/3036AgeCollection.jpg?v=1637099799","\/\/www.ageeyewear.com\/cdn\/shop\/products\/3174AgeCollection.jpg?v=1540244672","\/\/www.ageeyewear.com\/cdn\/shop\/products\/3107AgeCollection.jpg?v=1540244672"],"featured_image":"\/\/www.ageeyewear.com\/cdn\/shop\/products\/3036AgeCollection.jpg?v=1637099799","options":["Title"],"media":[{"alt":null,"id":2541991952427,"position":1,"preview_image":{"aspect_ratio":1.258,"height":260,"width":327,"src":"\/\/www.ageeyewear.com\/cdn\/shop\/products\/3036AgeCollection.jpg?v=1637099799"},"aspect_ratio":1.258,"height":260,"media_type":"image","src":"\/\/www.ageeyewear.com\/cdn\/shop\/products\/3036AgeCollection.jpg?v=1637099799","width":327},{"alt":null,"id":2541991985195,"position":2,"preview_image":{"aspect_ratio":1.5,"height":320,"width":480,"src":"\/\/www.ageeyewear.com\/cdn\/shop\/products\/3174AgeCollection.jpg?v=1540244672"},"aspect_ratio":1.5,"height":320,"media_type":"image","src":"\/\/www.ageeyewear.com\/cdn\/shop\/products\/3174AgeCollection.jpg?v=1540244672","width":480},{"alt":null,"id":2541991919659,"position":3,"preview_image":{"aspect_ratio":1.771,"height":271,"width":480,"src":"\/\/www.ageeyewear.com\/cdn\/shop\/products\/3107AgeCollection.jpg?v=1540244672"},"aspect_ratio":1.771,"height":271,"media_type":"image","src":"\/\/www.ageeyewear.com\/cdn\/shop\/products\/3107AgeCollection.jpg?v=1540244672","width":480}],"content":"\u003cmeta charset=\"utf-8\"\u003e\n\u003cp\u003e\u003cem\u003enoun\u003c\/em\u003e\u003c\/p\u003e\n\u003cp\u003eone or both sides of a sheet of paper in a book, magazine, newspaper, or other collection of bound sheets.\u003c\/p\u003e\n\u003cp\u003eNew season classic Page is sharp and sleek. Suitable for both men and women, the superb fit makes these frames incredibly comfortable and easy to wear. \u003c\/p\u003e\n\u003cp\u003eVarious mottled tones of blue create the depth and beauty in this colour. More translucent areas it allows the sun to shine through and make them stand out. Grey Gradient Lens.\u003cbr\u003e\u003cbr\u003e\u003c\/p\u003e\n\u003cul\u003e\n\u003cli\u003e144mm \/ 50mm (Width \/ Height) \u003c\/li\u003e\n\u003c\/ul\u003e\n\u003cul\u003e\n\u003cli\u003eUV 400 \/ CR39 Lenses \/ Accommodates prescription lenses \u003c\/li\u003e\n\u003c\/ul\u003e\n\u003cp\u003eAll Age eyewear is handcrafted and comes packaged with a cleaning cloth, semi hard case and box. Each pair comes with a one year warranty covering manufacturing faults.\u003c\/p\u003e\n\u003cp\u003e \u003c\/p\u003e"}