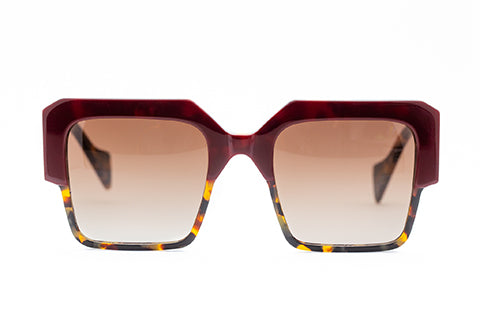 noun
the platform in a theatre where actors perform.
With a thick top frame subtly forming into fine lines, this frame sports boldness yet remains light and comfortable to wear. Stage features a square frame in multilayered acetates which have been carefully hand carved away to reveal the colour beneath, each colour-way with its own unique combination.
Multi-layered acetate featuring rich plum finely carved to reveal fromage tort underneath, with plum temples exposing the tort on the inside. Complete with Brown Gradient lenses, providing quality UV protection and high sun-glare reduction.
136mm / 48mm (Width / Height)  (Width / Height) 
UV 400 / CR39 Lenses / Accommodates prescription lenses 

All Age eyewear is handcrafted. Coming packaged with a cleaning cloth, semi-hard case, and box. Each pair comes with a one year warranty covering manufacturing faults.
YOU MAY ALSO LOVE
{"id":1835109023787,"title":"Stage - Black to Tort w\/ polarized","handle":"stage-black-to-tort-w-polarized","description":"\u003cmeta charset=\"utf-8\"\u003e\n\u003cp\u003e\u003cspan\u003enoun\u003c\/span\u003e\u003cbr\u003e\u003cspan class=\"s1\"\u003ethe platform in a theatre where actors perform.\u003c\/span\u003e\u003c\/p\u003e\n\u003cmeta charset=\"utf-8\"\u003e\u003cmeta charset=\"utf-8\"\u003e\u003cmeta charset=\"utf-8\"\u003e\n\u003cp class=\"p1\"\u003e\u003cspan class=\"s1\"\u003e\u003cspan\u003eWith a thick top frame subtly forming into fine lines, this frame sports boldness yet remains light and comfortable to wear. \u003c\/span\u003eStage features a square frame in multilayered acetates which have been carefully hand carved away to reveal the colour beneath, each colour-way with its own unique combination.\u003c\/span\u003e\u003c\/p\u003e\n\u003cmeta charset=\"utf-8\"\u003e\n\u003cp class=\"p1\"\u003e\u003cspan class=\"s1\" mce-data-marked=\"1\"\u003eA classic combination of black layered over brown tort. \u003c\/span\u003e\u003cspan class=\"s1\"\u003eComplete with Polarized Green Mono lenses, providing quality UV protection and superior sun-glare reduction.\u003c\/span\u003e\u003c\/p\u003e\n\u003cp class=\"p1\"\u003e\u003cspan class=\"s1\"\u003e\u003c\/span\u003e\u003cspan\u003e \u003c\/span\u003e \u003c\/p\u003e\n\u003cul\u003e\n\u003cli\u003e136mm \/ 48mm (Width \/ Height)  (Width \/ Height) \u003c\/li\u003e\n\u003cli\u003eUV 400 \/ CR39 Lenses \/ Accommodates prescription lenses \u003c\/li\u003e\n\u003c\/ul\u003e\n\u003cp\u003e\u003cbr\u003e\u003cspan\u003eAll Age eyewear is handcrafted. Coming packaged with a cleaning cloth, semi-hard case, and box. Each pair comes with a one year warranty covering manufacturing faults.\u003c\/span\u003e\u003c\/p\u003e\n\u003cp class=\"p1\"\u003e \u003c\/p\u003e\n\u003cp class=\"p1\"\u003e\u003cspan class=\"s1\"\u003e \u003c\/span\u003e\u003c\/p\u003e","published_at":"2019-10-15T13:36:34+13:00","created_at":"2019-07-16T14:37:14+12:00","vendor":"AgeEyewear","type":"","tags":["Sunglasses","Sunglasses -\u003e Stage"],"price":38900,"price_min":38900,"price_max":38900,"available":true,"price_varies":false,"compare_at_price":null,"compare_at_price_min":0,"compare_at_price_max":0,"compare_at_price_varies":false,"variants":[{"id":16773170200619,"title":"Default Title","option1":"Default Title","option2":null,"option3":null,"sku":"741 P","requires_shipping":true,"taxable":true,"featured_image":null,"available":true,"name":"Stage - Black to Tort w\/ polarized","public_title":null,"options":["Default Title"],"price":38900,"weight":0,"compare_at_price":null,"inventory_quantity":8,"inventory_management":"shopify","inventory_policy":"deny","barcode":""}],"images":["\/\/www.ageeyewear.com\/cdn\/shop\/products\/stage_black_to_tort_Polarized.jpg?v=1570764248","\/\/www.ageeyewear.com\/cdn\/shop\/products\/AGE_PRODUCT0096.jpg?v=1570764248","\/\/www.ageeyewear.com\/cdn\/shop\/products\/stage_black_to_tort_Polarized_side.jpg?v=1570764248","\/\/www.ageeyewear.com\/cdn\/shop\/products\/Blacktotort_31aeaaaf-64d4-4aa1-856e-bb48b3d22ae5.jpg?v=1587941330"],"featured_image":"\/\/www.ageeyewear.com\/cdn\/shop\/products\/stage_black_to_tort_Polarized.jpg?v=1570764248","options":["Title"],"media":[{"alt":null,"id":5239597727787,"position":1,"preview_image":{"aspect_ratio":1.5,"height":320,"width":480,"src":"\/\/www.ageeyewear.com\/cdn\/shop\/products\/stage_black_to_tort_Polarized.jpg?v=1570764248"},"aspect_ratio":1.5,"height":320,"media_type":"image","src":"\/\/www.ageeyewear.com\/cdn\/shop\/products\/stage_black_to_tort_Polarized.jpg?v=1570764248","width":480},{"alt":null,"id":5239597662251,"position":2,"preview_image":{"aspect_ratio":1.5,"height":320,"width":480,"src":"\/\/www.ageeyewear.com\/cdn\/shop\/products\/AGE_PRODUCT0096.jpg?v=1570764248"},"aspect_ratio":1.5,"height":320,"media_type":"image","src":"\/\/www.ageeyewear.com\/cdn\/shop\/products\/AGE_PRODUCT0096.jpg?v=1570764248","width":480},{"alt":null,"id":5239597695019,"position":3,"preview_image":{"aspect_ratio":1.5,"height":320,"width":480,"src":"\/\/www.ageeyewear.com\/cdn\/shop\/products\/stage_black_to_tort_Polarized_side.jpg?v=1570764248"},"aspect_ratio":1.5,"height":320,"media_type":"image","src":"\/\/www.ageeyewear.com\/cdn\/shop\/products\/stage_black_to_tort_Polarized_side.jpg?v=1570764248","width":480},{"alt":null,"id":6056504066091,"position":4,"preview_image":{"aspect_ratio":0.667,"height":2048,"width":1365,"src":"\/\/www.ageeyewear.com\/cdn\/shop\/products\/Blacktotort_31aeaaaf-64d4-4aa1-856e-bb48b3d22ae5.jpg?v=1587941330"},"aspect_ratio":0.667,"height":2048,"media_type":"image","src":"\/\/www.ageeyewear.com\/cdn\/shop\/products\/Blacktotort_31aeaaaf-64d4-4aa1-856e-bb48b3d22ae5.jpg?v=1587941330","width":1365}],"content":"\u003cmeta charset=\"utf-8\"\u003e\n\u003cp\u003e\u003cspan\u003enoun\u003c\/span\u003e\u003cbr\u003e\u003cspan class=\"s1\"\u003ethe platform in a theatre where actors perform.\u003c\/span\u003e\u003c\/p\u003e\n\u003cmeta charset=\"utf-8\"\u003e\u003cmeta charset=\"utf-8\"\u003e\u003cmeta charset=\"utf-8\"\u003e\n\u003cp class=\"p1\"\u003e\u003cspan class=\"s1\"\u003e\u003cspan\u003eWith a thick top frame subtly forming into fine lines, this frame sports boldness yet remains light and comfortable to wear. \u003c\/span\u003eStage features a square frame in multilayered acetates which have been carefully hand carved away to reveal the colour beneath, each colour-way with its own unique combination.\u003c\/span\u003e\u003c\/p\u003e\n\u003cmeta charset=\"utf-8\"\u003e\n\u003cp class=\"p1\"\u003e\u003cspan class=\"s1\" mce-data-marked=\"1\"\u003eA classic combination of black layered over brown tort. \u003c\/span\u003e\u003cspan class=\"s1\"\u003eComplete with Polarized Green Mono lenses, providing quality UV protection and superior sun-glare reduction.\u003c\/span\u003e\u003c\/p\u003e\n\u003cp class=\"p1\"\u003e\u003cspan class=\"s1\"\u003e\u003c\/span\u003e\u003cspan\u003e \u003c\/span\u003e \u003c\/p\u003e\n\u003cul\u003e\n\u003cli\u003e136mm \/ 48mm (Width \/ Height)  (Width \/ Height) \u003c\/li\u003e\n\u003cli\u003eUV 400 \/ CR39 Lenses \/ Accommodates prescription lenses \u003c\/li\u003e\n\u003c\/ul\u003e\n\u003cp\u003e\u003cbr\u003e\u003cspan\u003eAll Age eyewear is handcrafted. Coming packaged with a cleaning cloth, semi-hard case, and box. Each pair comes with a one year warranty covering manufacturing faults.\u003c\/span\u003e\u003c\/p\u003e\n\u003cp class=\"p1\"\u003e \u003c\/p\u003e\n\u003cp class=\"p1\"\u003e\u003cspan class=\"s1\"\u003e \u003c\/span\u003e\u003c\/p\u003e"}
{"id":1835112169515,"title":"Stage - Blue to Grey","handle":"stage-blue-to-grey","description":"\u003cmeta charset=\"utf-8\"\u003e\n\u003cp\u003e\u003cspan\u003enoun\u003c\/span\u003e\u003cbr\u003e\u003cspan class=\"s1\"\u003ethe platform in a theatre where actors perform.\u003c\/span\u003e\u003c\/p\u003e\n\u003cmeta charset=\"utf-8\"\u003e\u003cmeta charset=\"utf-8\"\u003e\u003cmeta charset=\"utf-8\"\u003e\n\u003cp class=\"p1\"\u003e\u003cspan class=\"s1\"\u003e\u003cspan\u003eWith a thick top frame subtly forming into fine lines, this frame sports boldness yet remains light and comfortable to wear. \u003c\/span\u003eStage features a square frame in multilayered acetates which have been carefully hand carved away to reveal the colour beneath, each colour-way with its own unique combination.\u003c\/span\u003e\u003c\/p\u003e\n\u003cmeta charset=\"utf-8\"\u003e\n\u003cp class=\"p1\"\u003e\u003cspan class=\"s1\"\u003eSmokey blue fades into grey creating a subtle contrast, the tones blend beautifully together while the slight transparency allows light to shine through, adding dimension. Blue tones are complimented with Brown Gradient lenses, providing quality UV protection and high sun-glare reduction.\u003c\/span\u003e\u003c\/p\u003e\n\u003cp class=\"p1\"\u003e\u003cspan class=\"s1\"\u003e\u003c\/span\u003e\u003cspan\u003e \u003c\/span\u003e \u003c\/p\u003e\n\u003cul\u003e\n\u003cli\u003e136mm \/ 48mm (Width \/ Height)  (Width \/ Height) \u003c\/li\u003e\n\u003cli\u003eUV 400 \/ CR39 Lenses \/ Accommodates prescription lenses \u003c\/li\u003e\n\u003c\/ul\u003e\n\u003cp\u003e\u003cbr\u003e\u003cspan\u003eAll Age eyewear is handcrafted. Coming packaged with a cleaning cloth, semi-hard case, and box. Each pair comes with a one year warranty covering manufacturing faults.\u003c\/span\u003e\u003c\/p\u003e\n\u003cp class=\"p1\"\u003e \u003c\/p\u003e\n\u003cp class=\"p1\"\u003e\u003cspan class=\"s1\"\u003e \u003c\/span\u003e\u003c\/p\u003e","published_at":"2019-10-15T13:36:34+13:00","created_at":"2019-07-16T14:39:49+12:00","vendor":"AgeEyewear","type":"","tags":["Sunglasses","Sunglasses -\u003e Stage"],"price":28900,"price_min":28900,"price_max":28900,"available":true,"price_varies":false,"compare_at_price":null,"compare_at_price_min":0,"compare_at_price_max":0,"compare_at_price_varies":false,"variants":[{"id":16773175050283,"title":"Default Title","option1":"Default Title","option2":null,"option3":null,"sku":"742","requires_shipping":true,"taxable":true,"featured_image":null,"available":true,"name":"Stage - Blue to Grey","public_title":null,"options":["Default Title"],"price":28900,"weight":0,"compare_at_price":null,"inventory_quantity":10,"inventory_management":"shopify","inventory_policy":"deny","barcode":""}],"images":["\/\/www.ageeyewear.com\/cdn\/shop\/products\/stage_blue_to_grey.jpg?v=1570764302","\/\/www.ageeyewear.com\/cdn\/shop\/products\/AGE_PRODUCT0180.jpg?v=1570764302","\/\/www.ageeyewear.com\/cdn\/shop\/products\/AGE_PRODUCT0253.jpg?v=1570764302","\/\/www.ageeyewear.com\/cdn\/shop\/products\/bluegreysun.jpg?v=1587941360"],"featured_image":"\/\/www.ageeyewear.com\/cdn\/shop\/products\/stage_blue_to_grey.jpg?v=1570764302","options":["Title"],"media":[{"alt":null,"id":5239599661099,"position":1,"preview_image":{"aspect_ratio":1.5,"height":320,"width":480,"src":"\/\/www.ageeyewear.com\/cdn\/shop\/products\/stage_blue_to_grey.jpg?v=1570764302"},"aspect_ratio":1.5,"height":320,"media_type":"image","src":"\/\/www.ageeyewear.com\/cdn\/shop\/products\/stage_blue_to_grey.jpg?v=1570764302","width":480},{"alt":null,"id":5239599595563,"position":2,"preview_image":{"aspect_ratio":1.5,"height":320,"width":480,"src":"\/\/www.ageeyewear.com\/cdn\/shop\/products\/AGE_PRODUCT0180.jpg?v=1570764302"},"aspect_ratio":1.5,"height":320,"media_type":"image","src":"\/\/www.ageeyewear.com\/cdn\/shop\/products\/AGE_PRODUCT0180.jpg?v=1570764302","width":480},{"alt":null,"id":5239599628331,"position":3,"preview_image":{"aspect_ratio":1.5,"height":320,"width":480,"src":"\/\/www.ageeyewear.com\/cdn\/shop\/products\/AGE_PRODUCT0253.jpg?v=1570764302"},"aspect_ratio":1.5,"height":320,"media_type":"image","src":"\/\/www.ageeyewear.com\/cdn\/shop\/products\/AGE_PRODUCT0253.jpg?v=1570764302","width":480},{"alt":null,"id":6056505311275,"position":4,"preview_image":{"aspect_ratio":0.667,"height":2048,"width":1365,"src":"\/\/www.ageeyewear.com\/cdn\/shop\/products\/bluegreysun.jpg?v=1587941360"},"aspect_ratio":0.667,"height":2048,"media_type":"image","src":"\/\/www.ageeyewear.com\/cdn\/shop\/products\/bluegreysun.jpg?v=1587941360","width":1365}],"content":"\u003cmeta charset=\"utf-8\"\u003e\n\u003cp\u003e\u003cspan\u003enoun\u003c\/span\u003e\u003cbr\u003e\u003cspan class=\"s1\"\u003ethe platform in a theatre where actors perform.\u003c\/span\u003e\u003c\/p\u003e\n\u003cmeta charset=\"utf-8\"\u003e\u003cmeta charset=\"utf-8\"\u003e\u003cmeta charset=\"utf-8\"\u003e\n\u003cp class=\"p1\"\u003e\u003cspan class=\"s1\"\u003e\u003cspan\u003eWith a thick top frame subtly forming into fine lines, this frame sports boldness yet remains light and comfortable to wear. \u003c\/span\u003eStage features a square frame in multilayered acetates which have been carefully hand carved away to reveal the colour beneath, each colour-way with its own unique combination.\u003c\/span\u003e\u003c\/p\u003e\n\u003cmeta charset=\"utf-8\"\u003e\n\u003cp class=\"p1\"\u003e\u003cspan class=\"s1\"\u003eSmokey blue fades into grey creating a subtle contrast, the tones blend beautifully together while the slight transparency allows light to shine through, adding dimension. Blue tones are complimented with Brown Gradient lenses, providing quality UV protection and high sun-glare reduction.\u003c\/span\u003e\u003c\/p\u003e\n\u003cp class=\"p1\"\u003e\u003cspan class=\"s1\"\u003e\u003c\/span\u003e\u003cspan\u003e \u003c\/span\u003e \u003c\/p\u003e\n\u003cul\u003e\n\u003cli\u003e136mm \/ 48mm (Width \/ Height)  (Width \/ Height) \u003c\/li\u003e\n\u003cli\u003eUV 400 \/ CR39 Lenses \/ Accommodates prescription lenses \u003c\/li\u003e\n\u003c\/ul\u003e\n\u003cp\u003e\u003cbr\u003e\u003cspan\u003eAll Age eyewear is handcrafted. Coming packaged with a cleaning cloth, semi-hard case, and box. Each pair comes with a one year warranty covering manufacturing faults.\u003c\/span\u003e\u003c\/p\u003e\n\u003cp class=\"p1\"\u003e \u003c\/p\u003e\n\u003cp class=\"p1\"\u003e\u003cspan class=\"s1\"\u003e \u003c\/span\u003e\u003c\/p\u003e"}